Poverty compounds humankind's worst dilemmas. Eradicating it would result in an improved quality of life for all – ensuring access to nutritious food, clean water, quality medical care, education and more. It would boost economies and revitalize our environmental resources. In other words, eradicating poverty would help individuals and communities thrive.
-Agriculture can help reduce poverty, raise income and improve food security for 80% of the world's poor.
-The estimated global gender pay gap is 22%, with women earning around 78% of what men are paid.
-The world's poorest people (about 750 million people) spend as much as 60% of their household income on food- with malnutrition remaining widespread.
The good news is our charity partners listed below are focused on helping individuals and communities rise above poverty. Their programs include microfinance, transportation, agricultural education and more to ensure that people have sustainable ways to provide for themselves and their families.
Explore the resources below to see the impact of their work.
Feeling inspired? Be a global champion and help boost economies around the world by supporting Global Impact charities through your employee giving campaign.
---
Find a Charity
---
Explore the Impact
Give Global Blogs
Even though it's been nearly seven years since I moved to Seattle, as a southern transplant living in the Pacific Northwest I still struggle to adjust this time of year. With the return of gloomy skies, rainy weather and very short days, I find myself seeking out bits of inspiration and joy to get that warm, cozy feeling that helps get me in the autumn spirit! While hot soups, the beautiful colors of changing leaves and crisp morning walks certainly help, Global Impact thought we'd put together something even more effective in curing the winter blues.   This month we are…
It's the new year, and our instinct to start drinking green smoothies and hitting the gym is kicking in. It's the time of planning for the year ahead and thinking through how we want to invest our time, energy and money. Enter: New Year's resolutions. Most of our resolutions tend to face inward and are centered on the self. How can I take better care of myself? How can I move more? How can I cut back on or add something to my life? These are all important questions to ask, and I commend anyone who is committing to healthy…
For a long time, I only knew The Salvation Army for the thrift stores and the bell ringers that we see around the holidays. What I didn't know until more recently is that they impact lives both here at home and around the world through the Salvation Army World Service Organization (SAWSO). SAWSO has spent over 40 years helping people across 131 countries improve their circumstances, maintain their health and gain financial independence. The charity's vision is to serve as a dedicated resource committed to responding to the global interests of The Salvation Army USA by: Developing sustainable solutions for…
Happy 50th anniversary to our Charity Alliance partner, Opportunity International! Through micro-banking, education finance, agriculture finance, and a wide range of innovative programs, Opportunity International (Opportunity) helps families provide for themselves and break the cycle of poverty. They help entrepreneurs grow their small businesses; farmers increase their harvests and income; and children get a quality education. These empowering and transformative interventions have touched the lives of millions, each with their own unique story and experience. Opportunity's work is centered around the needs of the people they serve. Everything they do, from providing small loans to financial training for marginalized groups, is focused…
Endangered species. Melting ice caps. The Deepwater Horizon oil spill. The Pacific Garbage Patch. Growing up with these events and more – and taking a handful of oceanography classes to boot – it's no wonder that protecting our oceans has become one of my most important personal causes. Yet I didn't quite grasp just how absolutely, globally vital it was until I started working at Global Impact. Over the last five years, I have seen how caring for our oceans has a far-reaching impact – even extending to international relief and development issues, such as global health, education, refugees, hunger,…
In much of the U.S., few things exemplify the holiday season like food: heaping plates of turkey and mashed potatoes, mugs full of cocoa and cider, gingerbread houses with sticky gum drop windows, candy canes on trees, pie crust bursting with berries, or a glass of milk with cookies by the fire. However, around the world, millions of families don't have the privilege of a full plate on any given day, or even a plate at all. Food insecurity and malnutrition threaten the livelihood of over one billion people. An estimated 60% of those are women and girls. Some of…
Images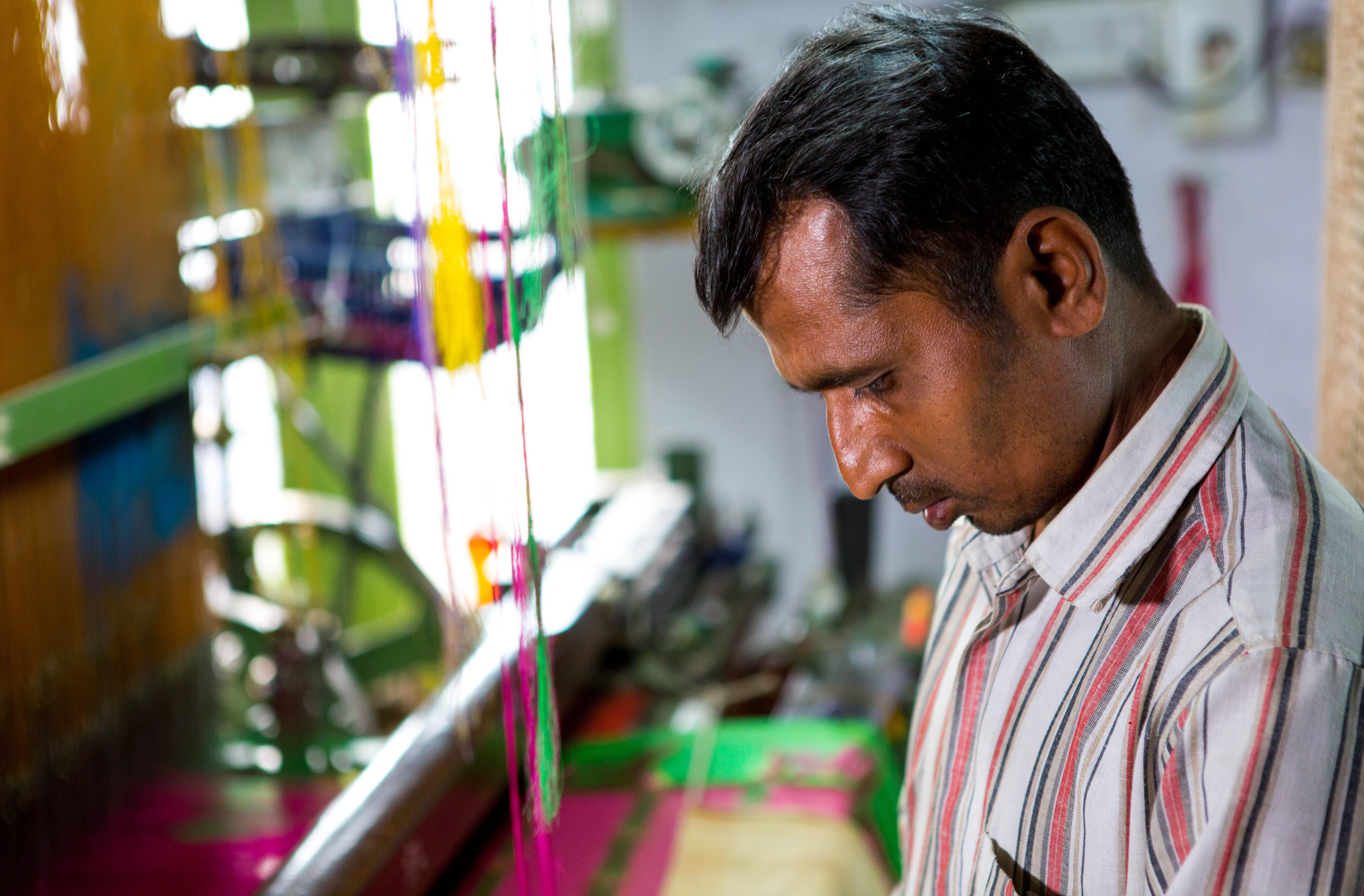 Title: Anjaneyalu
Charity: Accion
Country: India
Photo Credit: Accion
For Anjaneyalu, family is the most important thing in life. He operates his weaving business with the help of his wife and two children, in addition to a few paid laborers. Anjaneyalu looked for ways to expand his business and grow his family's income to provide a more comfortable life. But, when he approached traditional banks, Anjaneyalu found the application process too complicated, and he wasn't able to access the funds he needed to achieve his dreams. Anjaneyalu then learned about our portfolio partner Aye Finance, which provides entrepreneurs in India with financial tools to manage their small and medium businesses, including credit to grow their businesses. Anjaneyalu was able to use a loan from Aye to purchase new machines, which allowed him to produce more fabric and grow his business.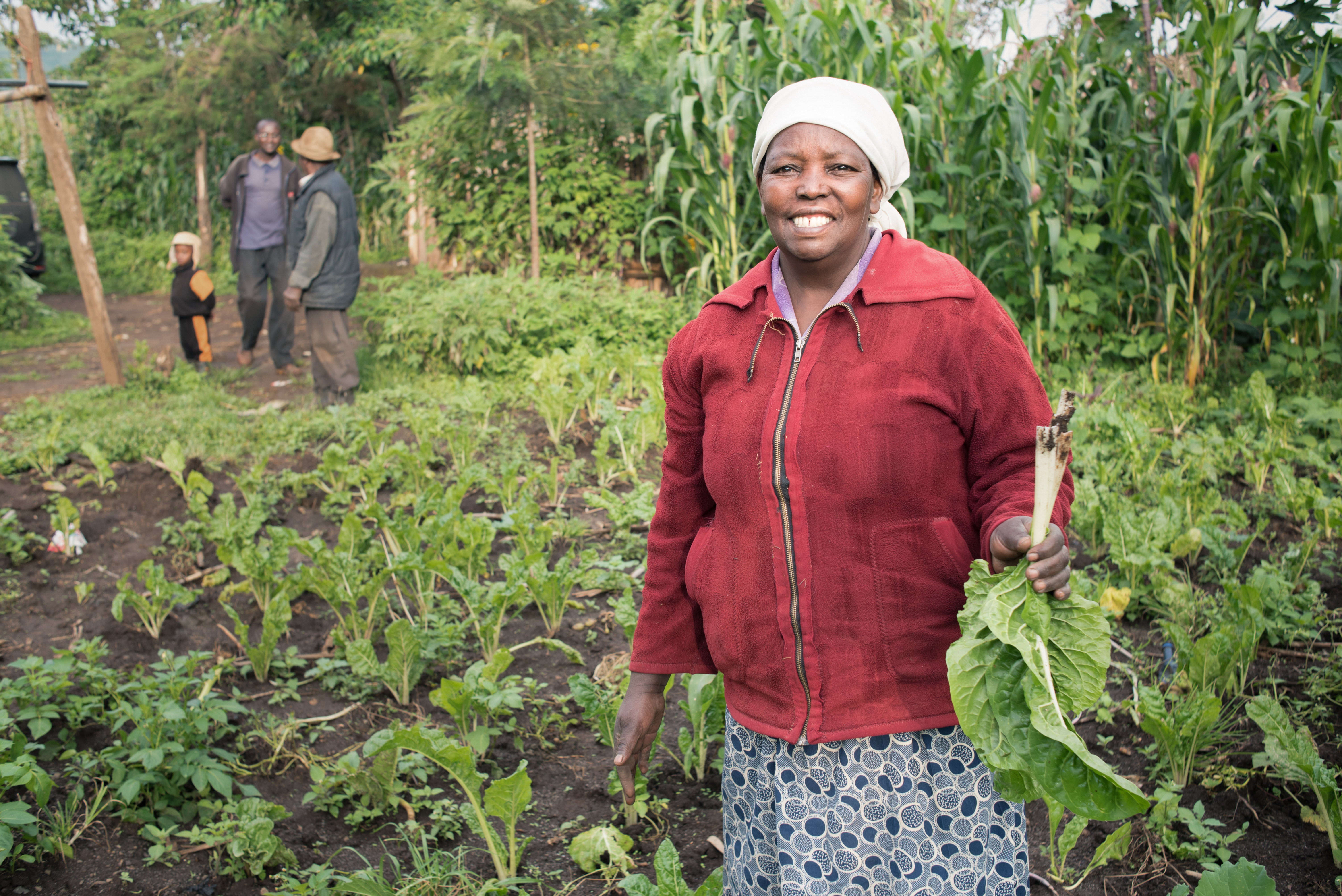 Title: Virginia
Charity: Accion
Country: Kenya
Photo Credit: Accion
Virginia Wanjiru Ndegwa, who lives near Nakuru, Kenya, isn't afraid of hard work. At age 72, she's raised ten children, is now looking after some of her grandchildren as well, and she's still rising early every day to tend to the family farm. "Who will help you feed yourself if you don't work? You have to sweat before you can eat. That's what I do, that's what suits me," she says. Kenya-based Apollo Agriculture is a fintech startup that seeks to help hardworking, vulnerable smallholder farmers like Virginia with the challenges they face. Apollo, an Accion Venture Lab portfolio company, offers a suite of products, including customized packages of seed, fertilizer, advice, and insurance on credit — all enabled by advanced technological solutions like satellite data and digital communication.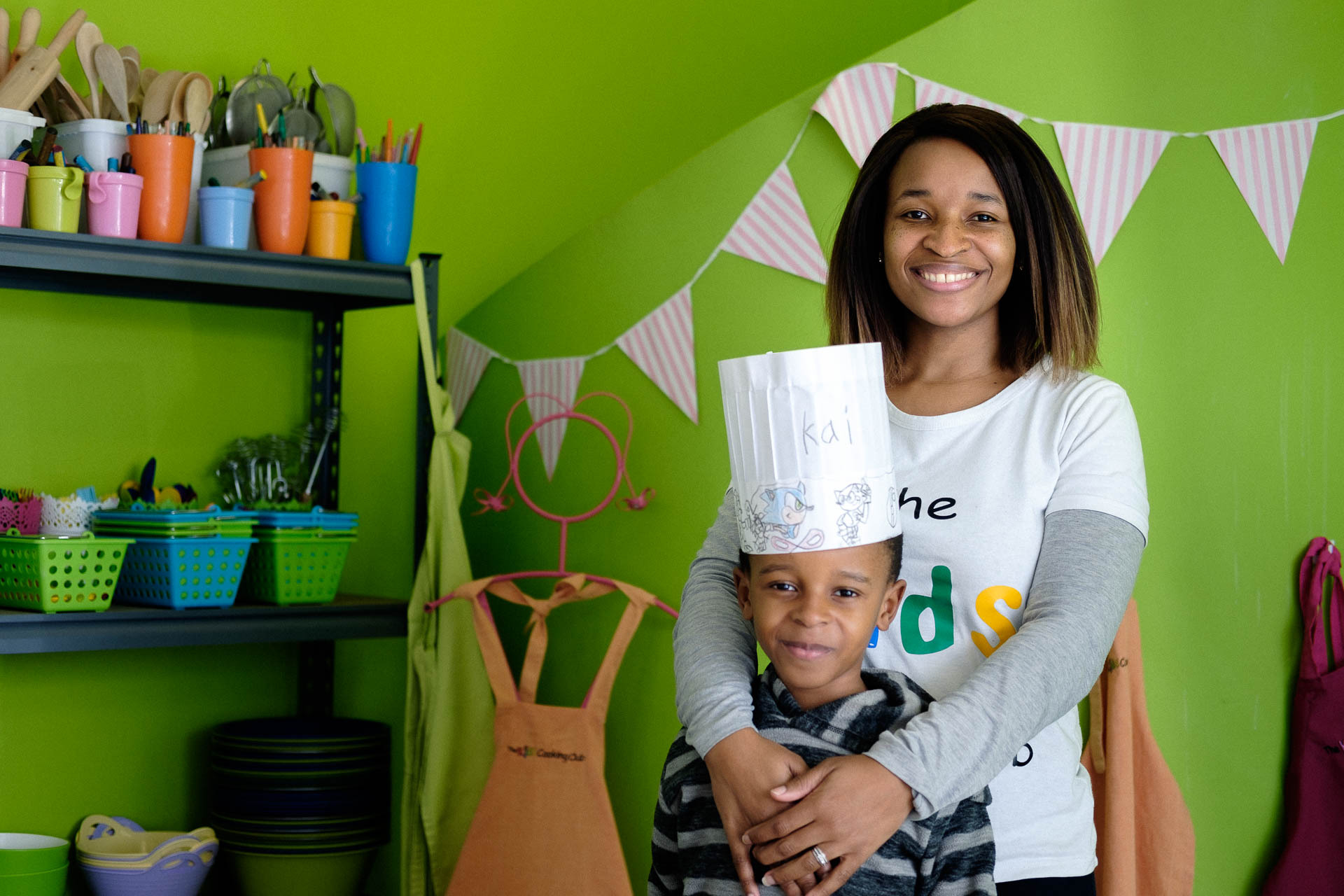 Title: Mondisa
Charity: Accion
Country: South Africa
Photo Credit: Accion
The Kids Cooking Club in Cape Town, South Africa, is a cheerful, colorful space with children decked out in aprons and paper chef's hats concentrating on sprinkling candy bits onto cookie dough. Mondisa, its founder, clearly loves working with kids. She smiles as she describes the club's weekday cooking classes and weekend birthday parties, where budding young chefs master basic techniques and learn to follow recipes.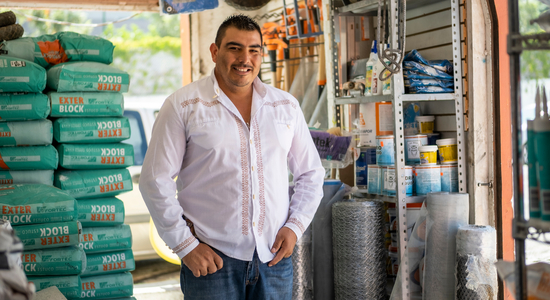 Title: Jorge Luis
Charity: Accion
Country: Mexico
Photo Credit: Accion
For Jorge Luis, a small business owner in Querétaro, Mexico, surviving the pandemic has been hard: lack of construction work shut down his building supply business, and his father was diagnosed with cancer. As his income shrunk, his expenses skyrocketed. To pay for his father's treatment and care for his family, he needed to rebuild his business. Local company Caja Bienestar worked with Accion to find an innovative way to support small business owners like Jorge Luis by partnering with the distributors that supply them and providing credit for their businesses. With their support, Jorge Luis was able to purchase materials, stock his shelves, and reopen his doors to his customers. "I want to open more outlets again and provide faster service to customers. The feeling of relief is enormous," he says.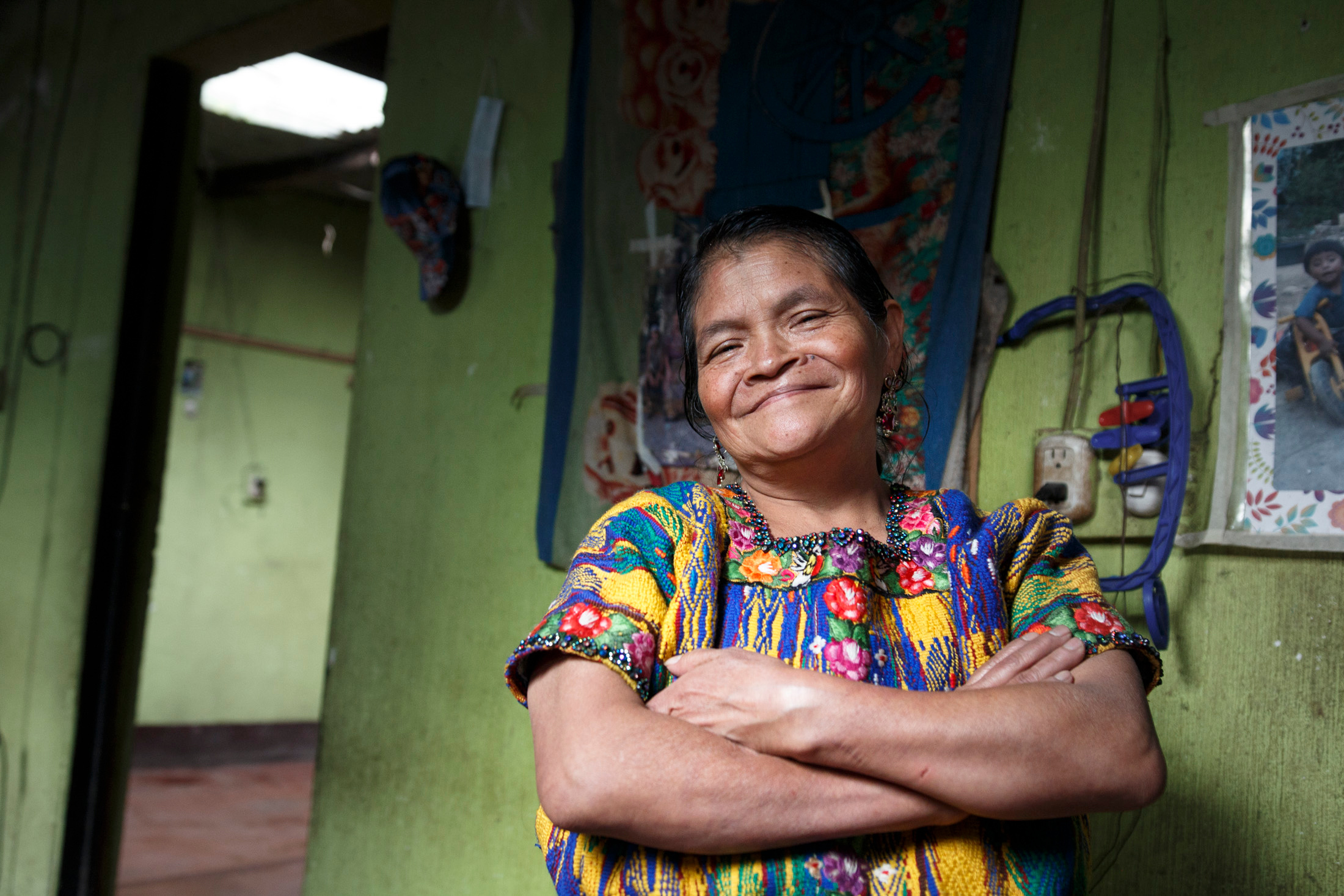 Title: Maria Bonifacia
Charity: Accion
Country: Guatemala
Photo Credit: Accion
María Bonifacia owns a textile business in San Juan Sacatepéquez, Guatemala. After her husband died, she needed a way to support her family. "I started this business to sustain myself and my children," she says. María turned to Accion partner Fundación Génesis Empresarial, which helps women entrepreneurs access the digital tools and financial support they need to seize new opportunities and create better futures. With their support, María was able to purchase more thread, renovate her workshop, and build a thriving business.
Videos
Success Stories
A $45 loan nearly doubled a family's income. Here's how. U Htein Win is a widower; his wife passed away four years ago. Four of the couple's eight children still live at home; the rest are married and living independently. After his wife's passing, U Htein became the family's sole breadwinner. U Htein has his own boat and relies on fishing as a source of income and as a way to add protein to his family's daily meals. He was making about 3,000 Kyat ($2) each day. He has long wanted to expand into shrimp fishing, but in order to do that he would need special traps. If he were to try to take out a loan to buy the traps, it would be at a 10-15% interest rate that he simply couldn't afford. His life changed, though, when CWS introduced the concept of a savings group to his village…
Bogota, Colombia is a capital city filled with commerce and tourism. But, just outside the city center exists a noticeable contrast in housing and economic development where the poorest families reside. Many of the city's poorest families live on the outskirts in the mountains, and they have very difficult commutes into the city center for work. Without daycare, many of the young parents would not be able to earn an income to support their families. Fe y Alegria, a Jesuit network of organizations helping the disadvantaged and poor since 1955, has preschools within this community offering free services to children up to 5 years of age. These services include: monitoring and evaluating the child's development, nutritional supplementation and home interventions when needed. The administrator of the preschool feeds the children three nutritious meals per day. Although it doesn't sound like a huge accomplishment, she does this on just $1 (one…
Michel became a mom in June 2021, when baby Nathan was born; she's part of the Wayuu community. She lives with her dad, brother and another child that a friend asked her to care for two years ago. She's a medical laboratory technician and holds a B.A. in Administration. Although she currently works as a Procurement Analyst, she doesn't make enough to pay for basic needs. Michel has participated in different IRC-supported programs in the community center that is located a couple blocks away from her house. She first visited to get attention after experiencing pain while breast feeding, that's how she joined the breast-feeding orientation program, in which she has now started to participate to share with other moms-to-be her experience. Additionally, she has joined the Wapushii program after Nathan was born, where she learns how to promote his development during the Early Childhood stage; she also has accessed…
Dr. Paul Farmer's return to Partners In Health-supported Butaro District Hospital in December was one full of emotions as he accompanied the inaugural class of medical students from the University of Global Health Equity (UGHE) on rounds through the oncology wards. "I am very emotional because I am so excited and grateful," Farmer said. "I have been dreaming of this for 20 years right here in Rwanda. " Farmer is a familiar face at Butaro District Hospital—a familiarity that has less to do with his leadership roles, as co-founder and chief strategist of PIH and chancellor of UGHE, and more with how, over the years, he has spent his time there interacting with patients and getting to know the staff. Most recently, Farmer came to Butaro in early December last year with Harvard professor and psychiatrist Dr. John Sharp and provided a special training for students at a patient's bedside….
A fight against the spread of hunger is underway across East Africa, where 32.9 million people are experiencing a complex hunger crisis driven by conflict, the economic impacts of the global pandemic, swarms of desert locusts, and extreme weather conditions. According to the United Nations, at least 5.3 million people in Ethiopia, South Sudan, and Sudan are living under "emergency" conditions, with the threat of acute malnutrition and death. In South Sudan, 105,000 are living under "catastrophic" levels of food insecurity. By air, land, and sea, World Vision teams are delivering emergency food supplies across the region—an area so vast it equates to more than half the size of the United States—in a race to feed hungry families living in some of the most dangerous and isolated places on earth. "We are marshaling resources to support vulnerable communities across East Africa to avert the catastrophic effects of hunger and loss…
In 2021 as disruptions due to the pandemic continued to impact the people we serve, Rise Against Hunger implemented the 2021 COVID-19 Relief & Resilience Plan to bolster and sustain one of our key priorities–Nourishing Lives through Local Food Procurement. Funds for Local or regional procurement of food commodities were provided to our impact partners through grants, cash-based assistance, cooperative agreements, and other mechanisms. Programming leveraged resources, skills, and partnerships with local suppliers, and enhanced the delivery of a nutrition-rich food basket, including cereals, cooking oil, fresh fruits, and vegetables, proteins, sugar, and salt. Local regional procurement began in Timor-Leste during 2021. Despite restrictions on movement due to the pandemic, the team started distribution in July reaching various sites including schools, refugee camps, and orphanages. Before, Mario and his two siblings picked up odd jobs to pay for their hostel while they attended the university. After the onset of the…