About 805 million people around the world go to bed on an empty stomach – and 2 billion don't know where their next meal will come from.
-Reducing food waste in the value chain could be worth $155-405 billion per year by 2030.
-Over 45 million children are affected by wasting, which is the most severe form of malnutrition.
-17 million children per years are born undernourished due to pregnancy in undernourished mothers.
The good news is our charity partners listed below are working to end hunger. Their programs include delivering emergency food supplies in times of crisis, treating the malnourished, training farmers with sustainable agriculture practices and more.
Explore blog posts, images, success stories and videos to see the impact of their work.
Feeling inspired? Be a global champion and help end hunger by supporting Global Impact charities through your employee giving campaign.
---
Find a Charity
---
Explore the Impact
Give Global Blogs
Recently, with every new year it feels like we have been stuck in that TikTok trend, "hold my beer," with each new year trying to top its predecessor and be more eventful than the last. And, as much as we wish it were different, 2022 is proving to be another difficult year. We continue to face stories of wars, conflict, natural disasters and the ongoing pandemic. While many of us are fortunate enough to be disconnected from the majority of these events, for vulnerable and undernourished communities these emergencies can be devastating. Especially when it comes to hunger. When a…
The recent Giving USA 2021 report showed a 5.1% increase in charitable giving to U.S. charities in 2020, or 3.8% adjusted for inflation. One notable highlight was the increase in giving to environment and animal organizations, estimated at 11.6% or 10.3% adjusted for inflation. With companies shifting their giving strategies to integrate environment, social and governance pillars, we have seen an increased interest in charities working to address these issues. In fact, this past campaign year, one of the most frequent requests we received was for charities to speak on the subject. While many of our charities focus on traditional…
There is no shortage of organizations dedicated to helping hungry children globally, so how do you determine which one to support? Each organization has unique qualities, and Feed My Starving Children (FMSC) is no different. FMSC is a Christian nonprofit organization that provides meals developed by food science and nutrition professionals to supplement nutritional needs and reduce problems with malnutrition. Founded in 1987, the organization takes a very streamlined approach: donations are collected to fund the meal ingredients, volunteers hand-pack the meals, and meals are then donated to FMSC food partners. This process helps feed kids and save lives around…
Think about the best meal you've ever had. What was the occasion? Who was eating with you? What was the dish? For many of us, what comes to mind is not just the dish itself, but also a flood of important events and memories – once-in-a-lifetime celebrations, times with family and friends, holidays, a favorite childhood meal. You may remember learning to cook with a loved one, or a special ethnic dish that your family has made for generations. No matter where you are, food is woven into the traditions of every society. Our relationship to food is of course…
Endangered species. Melting ice caps. The Deepwater Horizon oil spill. The Pacific Garbage Patch. Growing up with these events and more – and taking a handful of oceanography classes to boot – it's no wonder that protecting our oceans has become one of my most important personal causes. Yet I didn't quite grasp just how absolutely, globally vital it was until I started working at Global Impact. Over the last five years, I have seen how caring for our oceans has a far-reaching impact – even extending to international relief and development issues, such as global health, education, refugees, hunger,…
In much of the U.S., few things exemplify the holiday season like food: heaping plates of turkey and mashed potatoes, mugs full of cocoa and cider, gingerbread houses with sticky gum drop windows, candy canes on trees, pie crust bursting with berries, or a glass of milk with cookies by the fire. However, around the world, millions of families don't have the privilege of a full plate on any given day, or even a plate at all. Food insecurity and malnutrition threaten the livelihood of over one billion people. An estimated 60% of those are women and girls. Some of…
Images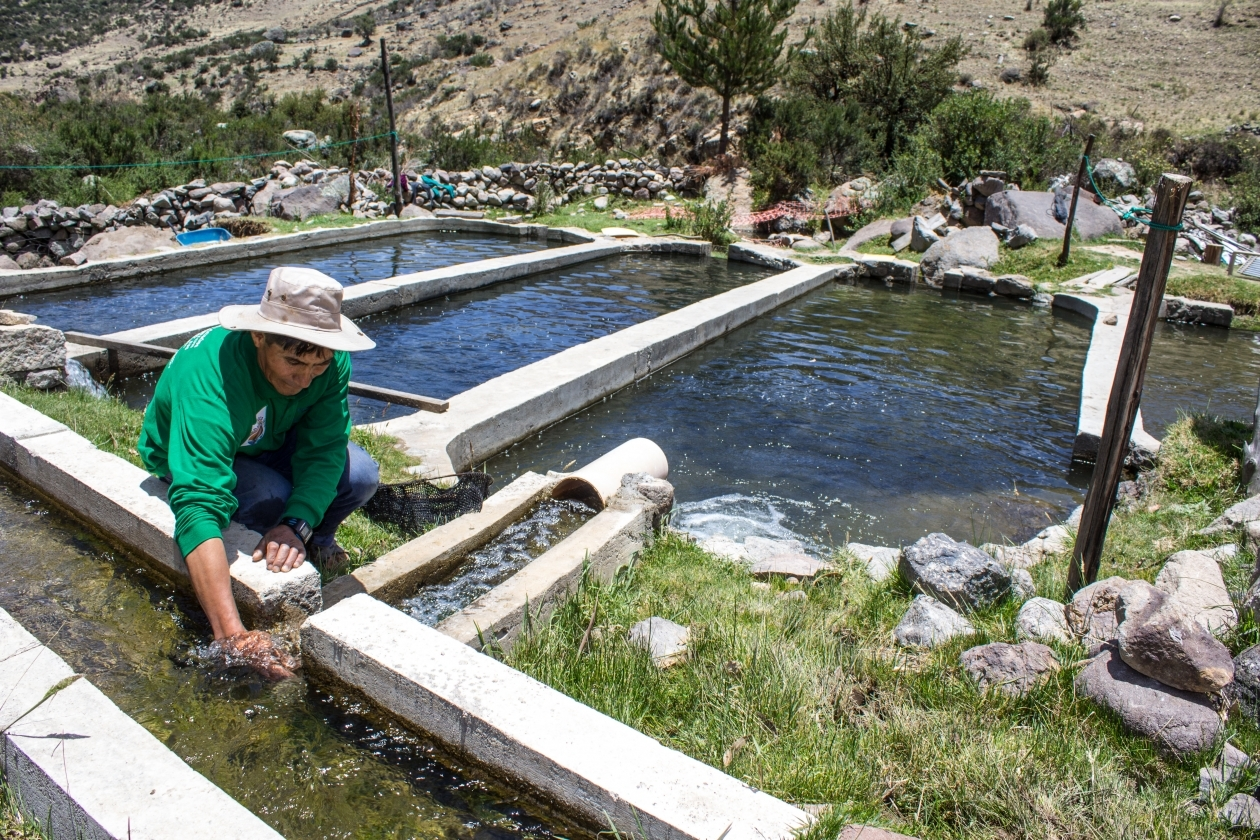 Title: Supporting Local Livelihoods
Charity: Action Against Hunger
Country: Peru
Photo Credit: Dennis Zevallos
Around the world, Action Against Hunger is helping families suffering from hunger to find new ways to earn income and put food on their tables. For example, in Peru, we helped the Oré family to relaunch their business: a trout farm. In the ponds in the above photo, they raise the fish for eating and selling for additional income.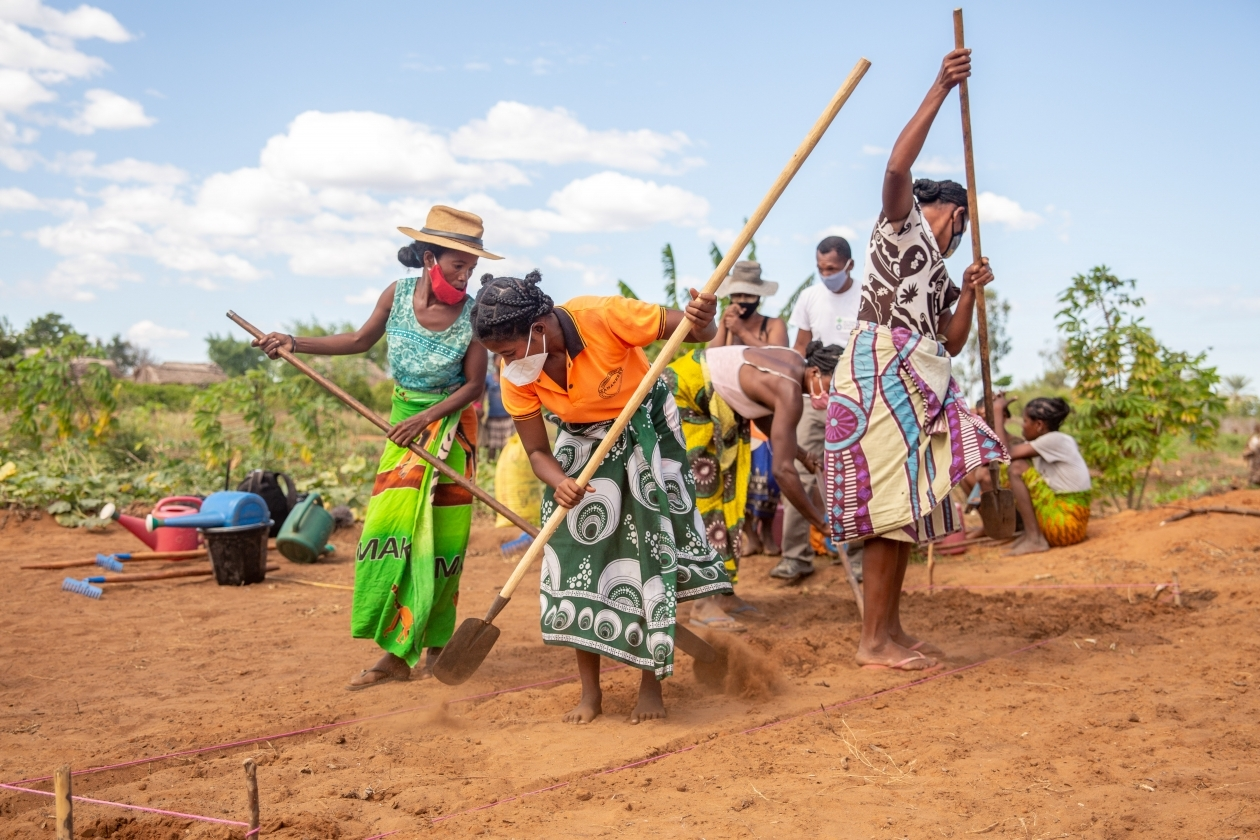 Title: Emergency Drought Response
Charity: Action Against Hunger
Country: Madagascar
Photo Credit: Stéphane Rakotomalala
Droughts in Grand Sud, Madagascar, have sharply increased in both frequency and intensity in recent years. Bearing the full brunt of the effects of climate change, families who live in this region have seen drastic impacts on their livelihoods and health. In 2020, there were virtually no rains and this trend continued in 2021. Historically low rainfall levels depleted the few sources of clean water that existed in this chronically dry region. As a result, water-borne illnesses such as diarrhea have increased sharply. And, without rain, there could be no harvests. Food insecurity and malnutrition have increased dramatically. Action Against Hunger's teams are on the ground, treating malnutrition and helping farmers adapt.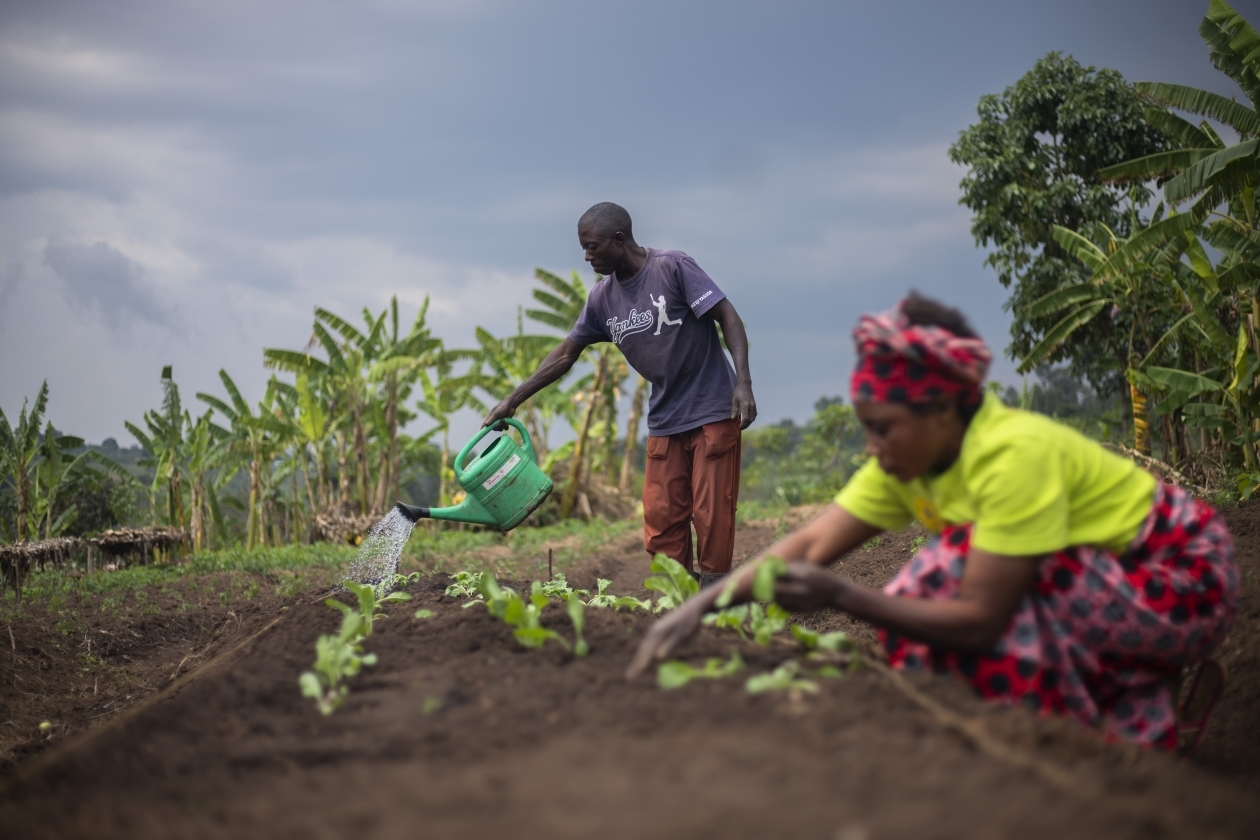 Title: Supporting Refugees
Charity: Action Against Hunger
Country: Uganda
Photo Credit: Solomon Serwanjja
Uganda is home to more than one million refugees, who are welcomed to the country with a small plot of land, the ability to work and go to school, and more. To help both refugees and the communities that host them, Action Against Hunger works with groups of farmers to help them learn new skills, grow new crops, and make the most of the limited land and water they have.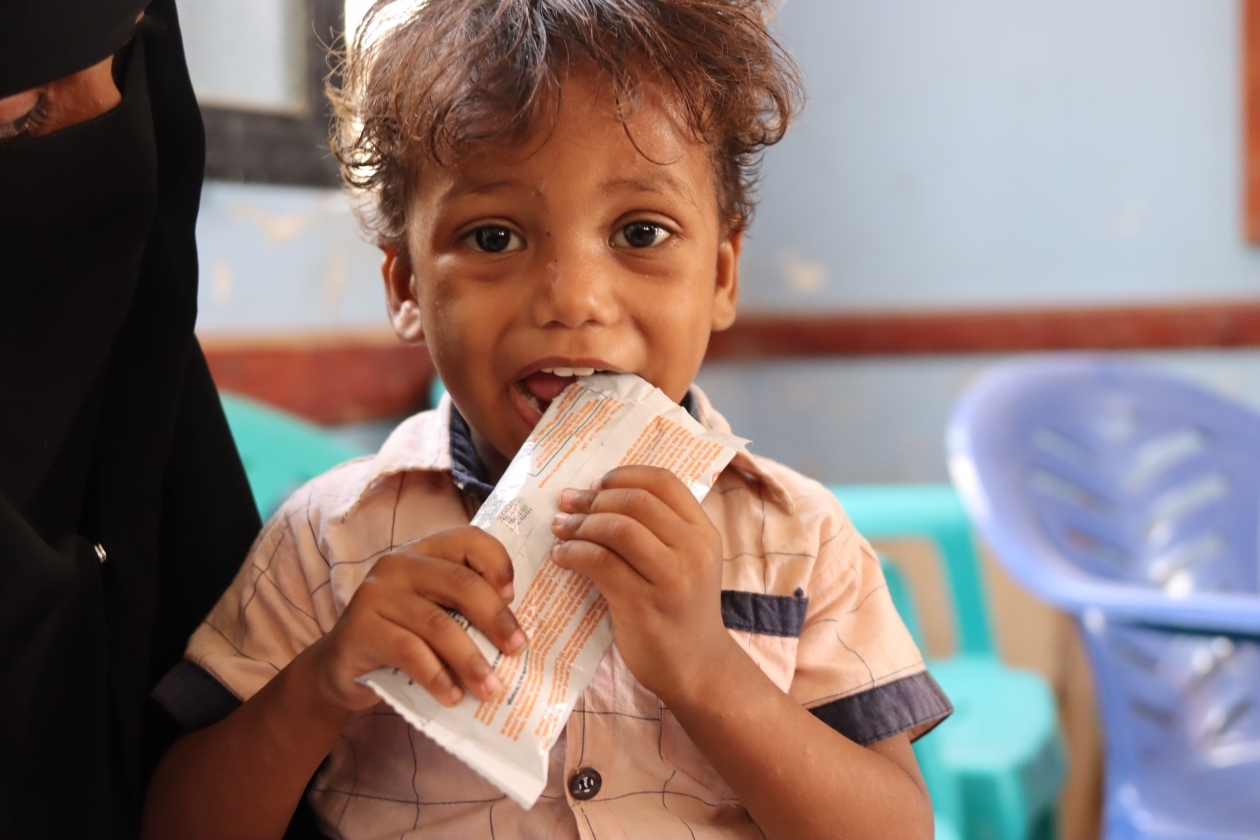 Title: Providing Emergency Nutrition Support
Charity: Action Against Hunger
Country: Yemen
Photo Credit: Nada Al-Saqaf
Now almost three years old, Watheek was born in displacement. His family fled their home when the war in Yemen worsened. With six children living in a small one-room house, his parents struggle to get by. Watheek suffered from malnutrition in 2021, and received treatment from Action Against Hunger.
Videos
Success Stories
Bogota, Colombia is a capital city filled with commerce and tourism. But, just outside the city center exists a noticeable contrast in housing and economic development where the poorest families reside. Many of the city's poorest families live on the outskirts in the mountains, and they have very difficult commutes into the city center for work. Without daycare, many of the young parents would not be able to earn an income to support their families. Fe y Alegria, a Jesuit network of organizations helping the disadvantaged and poor since 1955, has preschools within this community offering free services to children up to 5 years of age. These services include: monitoring and evaluating the child's development, nutritional supplementation and home interventions when needed. The administrator of the preschool feeds the children three nutritious meals per day. Although it doesn't sound like a huge accomplishment, she does this on just $1 (one…
Michel became a mom in June 2021, when baby Nathan was born; she's part of the Wayuu community. She lives with her dad, brother and another child that a friend asked her to care for two years ago. She's a medical laboratory technician and holds a B.A. in Administration. Although she currently works as a Procurement Analyst, she doesn't make enough to pay for basic needs. Michel has participated in different IRC-supported programs in the community center that is located a couple blocks away from her house. She first visited to get attention after experiencing pain while breast feeding, that's how she joined the breast-feeding orientation program, in which she has now started to participate to share with other moms-to-be her experience. Additionally, she has joined the Wapushii program after Nathan was born, where she learns how to promote his development during the Early Childhood stage; she also has accessed…
A fight against the spread of hunger is underway across East Africa, where 32.9 million people are experiencing a complex hunger crisis driven by conflict, the economic impacts of the global pandemic, swarms of desert locusts, and extreme weather conditions. According to the United Nations, at least 5.3 million people in Ethiopia, South Sudan, and Sudan are living under "emergency" conditions, with the threat of acute malnutrition and death. In South Sudan, 105,000 are living under "catastrophic" levels of food insecurity. By air, land, and sea, World Vision teams are delivering emergency food supplies across the region—an area so vast it equates to more than half the size of the United States—in a race to feed hungry families living in some of the most dangerous and isolated places on earth. "We are marshaling resources to support vulnerable communities across East Africa to avert the catastrophic effects of hunger and loss…
In 2021 as disruptions due to the pandemic continued to impact the people we serve, Rise Against Hunger implemented the 2021 COVID-19 Relief & Resilience Plan to bolster and sustain one of our key priorities–Nourishing Lives through Local Food Procurement. Funds for Local or regional procurement of food commodities were provided to our impact partners through grants, cash-based assistance, cooperative agreements, and other mechanisms. Programming leveraged resources, skills, and partnerships with local suppliers, and enhanced the delivery of a nutrition-rich food basket, including cereals, cooking oil, fresh fruits, and vegetables, proteins, sugar, and salt. Local regional procurement began in Timor-Leste during 2021. Despite restrictions on movement due to the pandemic, the team started distribution in July reaching various sites including schools, refugee camps, and orphanages. Before, Mario and his two siblings picked up odd jobs to pay for their hostel while they attended the university. After the onset of the…
When the East African Youth Inclusion project formed the Zirobwe Kalagala hub in Uganda, Mpiima Mohamed joined of one of the hub's beneficiary groups, Situka Youth Development. Before joining, Mohamed had dropped out of high school because his parents couldn't afford his education. He began engaging in small-scale tomato farming on his family's land. While he had the skills to grow tomatoes, Mohamed did not have access to the capital required to expand his business into a large-scale operation. Upon joining the project, Mohamed received training in business development that enabled him to see opportunities to expand his harvest. He engaged in the group's saving and lending activities from which he borrowed small loans to invest in his business and expand his tomato garden. Mohamed had saved $135, but it was not enough for the garden size he had always wanted, so he borrowed $270. He used the total funds…
Kids Kingdom Orphanage in Ensenada, Mexico – Estrella, age 11, and her twin brothers, age five, were brought to Kids Kingdom by police in March 2021. They were rescued from a family environment where violence and drug abuse were common occurrences. Estrella and her brothers were neglected, given little food, and did not attend school. Even at her young age, Estrella felt responsible for her brothers and took care of them as best she could. Her only focus was their daily survival. When Estrella first arrived at Kids Kingdom, she was very shy and withdrawn. She and her brothers were given three hot meals a day, a safe environment, and the opportunity to make new friends. Estrella finally had a chance to be a kid, and not worry about her next meal or her brothers' well-being. Estrella is becoming very social and outgoing in this new, safe environment. She is…