More than 800 million people around the world go to bed on an empty stomach – and 2 billion don't know where their next meal will come from.
-Reducing food waste in the value chain could be worth $155-405 billion per year by 2030.
-Over 45 million children are affected by wasting, which is the most severe form of malnutrition.
-Around 45 percent of deaths among children under 5 years of age are linked to undernutrition.
The good news is our charity partners listed below are working to end hunger. Their programs include delivering emergency food supplies in times of crisis, treating the malnourished, training farmers with sustainable agriculture practices and more.
Explore blog posts, images, success stories and videos to see the impact of their work.
Feeling inspired? Be a global champion and help end hunger by supporting Global Impact charities through your employee giving campaign.
---
Find a Charity
---
Explore the Impact
Give Global Blogs
We love working with Action Against Hunger! Our partnership began in 2018 when the nonprofit joined Global Impact's Charity Alliance for workplace fundraising services. Not long after, we began to serve the charity in an advisory capacity. Together, we developed many exciting initiatives over the years, from launching a COVID-19 fund to brokering funding partnerships across the corporate, foundation and individual donor segments, and now supporting their bi-annual gala. We were also honored to have Action Against Hunger's CEO, Dr. Charles Owubah, join Global Impact's Board of Directors last year. For decades, world hunger steadily declined until recently. Now, the…
You are a global champion and wanted to learn about how we can address hunger, but you're also super busy and couldn't make our event last week, "From Seed to Plate: Addressing the Global Hunger Crisis." Not to worry! Here's a rapid recap for you to check out. Our charity speakers: We talked about the global hunger crisis (this only scratches the surface!): There were examples of the charities' work in action: Here's the one thing they each want you to know about hunger: And last but not least, here's how you take action:
I wish that I could begin writing this on a lighter note, but the truth is that hunger affects an estimated 815 million people worldwide and it's a crisis that has only gotten worse in recent years. When I hear that I think of three things. First, I am sad for all those people that go to sleep hungry or don't know where their next meal is coming from. Secondly, I understand that there are region-specific challenges that add up to create the global crisis. The third and final thought I have is that I am so thankful for the…
Recently, with every new year it feels like we have been stuck in that TikTok trend, "hold my beer," with each new year trying to top its predecessor and be more eventful than the last. And, as much as we wish it were different, 2022 is proving to be another difficult year. We continue to face stories of wars, conflict, natural disasters and the ongoing pandemic. While many of us are fortunate enough to be disconnected from the majority of these events, for vulnerable and undernourished communities these emergencies can be devastating. Especially when it comes to hunger. When a…
The recent Giving USA 2021 report showed a 5.1% increase in charitable giving to U.S. charities in 2020, or 3.8% adjusted for inflation. One notable highlight was the increase in giving to environment and animal organizations, estimated at 11.6% or 10.3% adjusted for inflation. With companies shifting their giving strategies to integrate environment, social and governance pillars, we have seen an increased interest in charities working to address these issues. In fact, this past campaign year, one of the most frequent requests we received was for charities to speak on the subject. While many of our charities focus on traditional…
There is no shortage of organizations dedicated to helping hungry children globally, so how do you determine which one to support? Each organization has unique qualities, and Feed My Starving Children (FMSC) is no different. FMSC is a Christian nonprofit organization that provides meals developed by food science and nutrition professionals to supplement nutritional needs and reduce problems with malnutrition. Founded in 1987, the organization takes a very streamlined approach: donations are collected to fund the meal ingredients, volunteers hand-pack the meals, and meals are then donated to FMSC food partners. This process helps feed kids and save lives around…
Images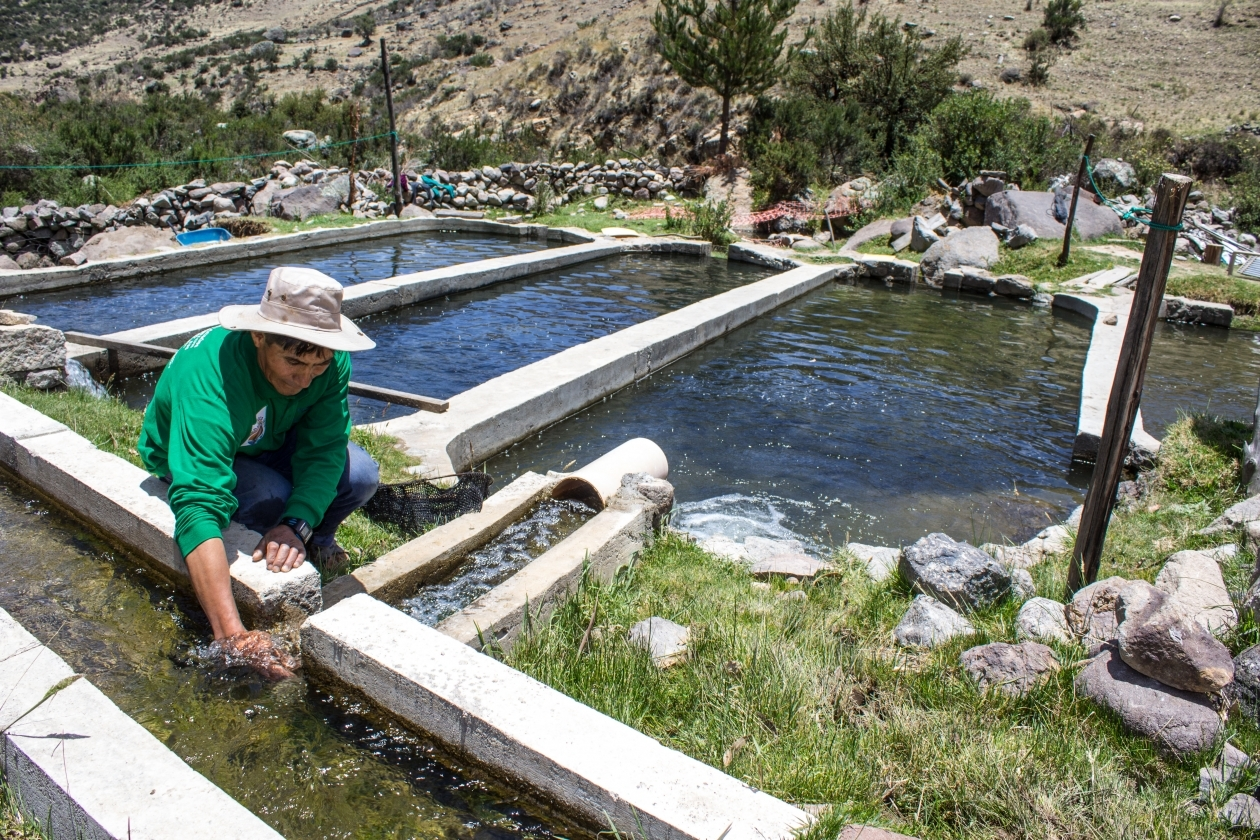 Title: Supporting Local Livelihoods
Charity: Action Against Hunger
Country: Peru
Photo Credit: Dennis Zevallos
Around the world, Action Against Hunger is helping families suffering from hunger to find new ways to earn income and put food on their tables. For example, in Peru, we helped the Oré family to relaunch their business: a trout farm. In the ponds in the above photo, they raise the fish for eating and selling for additional income.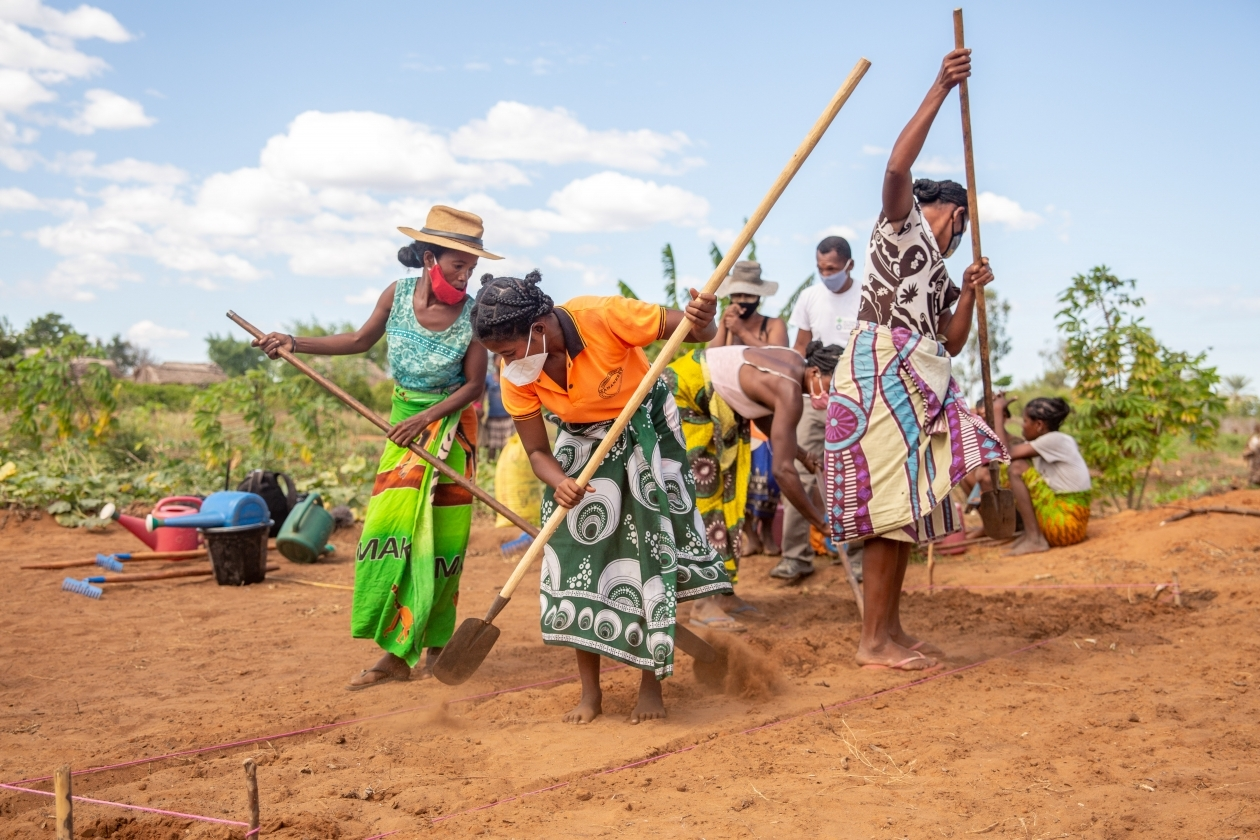 Title: Emergency Drought Response
Charity: Action Against Hunger
Country: Madagascar
Photo Credit: Stéphane Rakotomalala
Droughts in Grand Sud, Madagascar, have sharply increased in both frequency and intensity in recent years. Bearing the full brunt of the effects of climate change, families who live in this region have seen drastic impacts on their livelihoods and health. In 2020, there were virtually no rains and this trend continued in 2021. Historically low rainfall levels depleted the few sources of clean water that existed in this chronically dry region. As a result, water-borne illnesses such as diarrhea have increased sharply. And, without rain, there could be no harvests. Food insecurity and malnutrition have increased dramatically. Action Against Hunger's teams are on the ground, treating malnutrition and helping farmers adapt.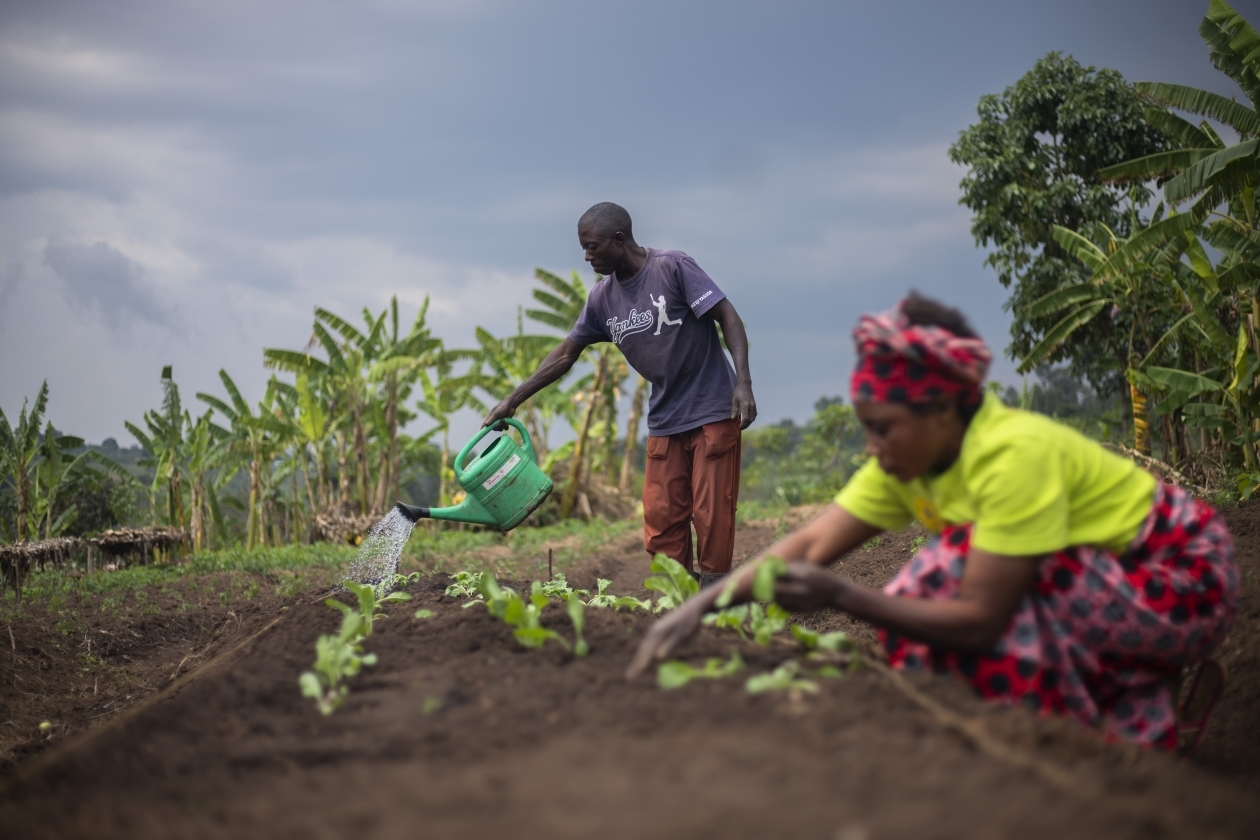 Title: Supporting Refugees
Charity: Action Against Hunger
Country: Uganda
Photo Credit: Solomon Serwanjja
Uganda is home to more than one million refugees, who are welcomed to the country with a small plot of land, the ability to work and go to school, and more. To help both refugees and the communities that host them, Action Against Hunger works with groups of farmers to help them learn new skills, grow new crops, and make the most of the limited land and water they have.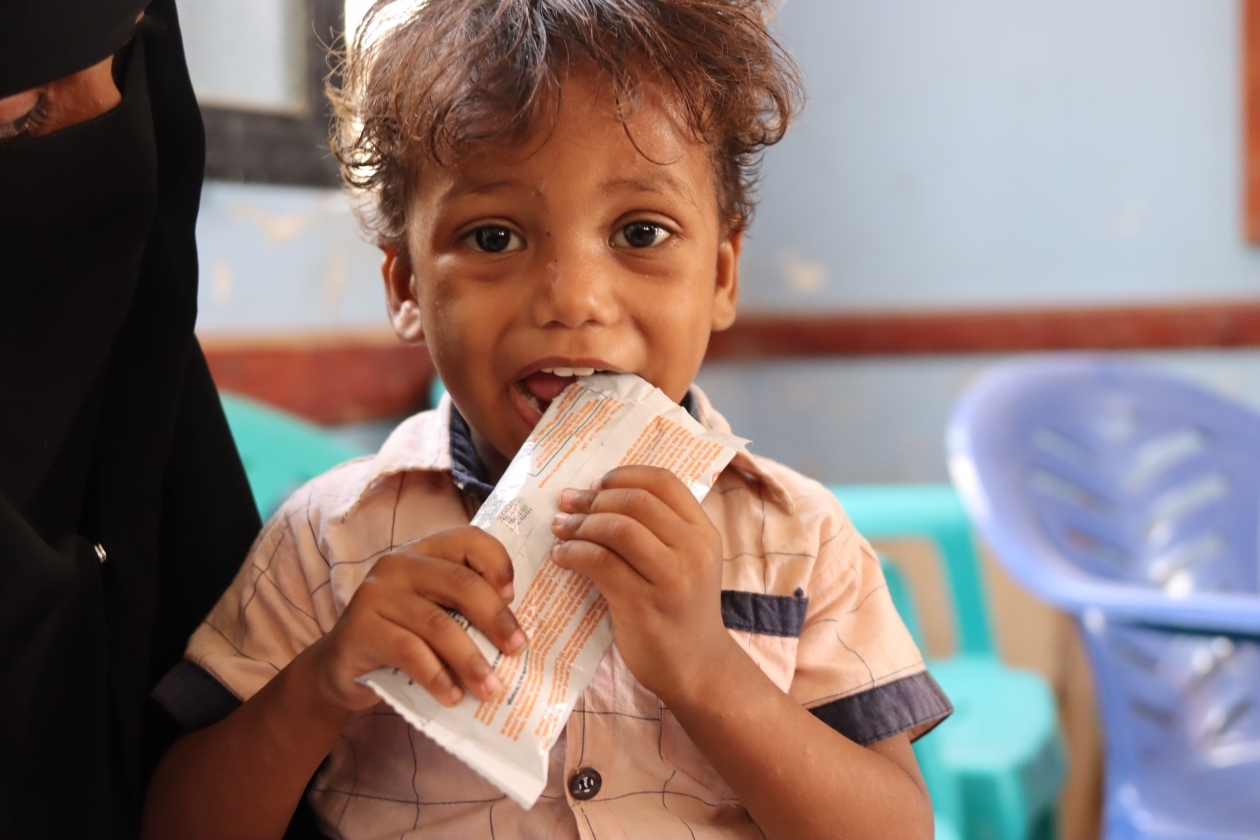 Title: Providing Emergency Nutrition Support
Charity: Action Against Hunger
Country: Yemen
Photo Credit: Nada Al-Saqaf
Now almost three years old, Watheek was born in displacement. His family fled their home when the war in Yemen worsened. With six children living in a small one-room house, his parents struggle to get by. Watheek suffered from malnutrition in 2021, and received treatment from Action Against Hunger.
Videos
Success Stories
Along the Imatong Mountains in South Sudan's Eastern Equatoria state, 46-year-old Night lives with her husband and two of their children. Night is a farmer, and she used to buy whatever seeds she could afford from the local market. The seeds she could afford were typically low quality, leading to low crop yields and food shortages for her and her family.
When our Land Cruiser rolled to a stop in a village in Turkana, northern Kenya — a hotspot of the global hunger crisis — I braced myself to encounter desperation and heartbreak. I didn't expect to find extravagant generosity and faith. The looming crisis On the journey to East Africa, my head was full of facts about this crisis. Alarmingly, 50 million people worldwide are facing starvation if nothing is done. Hunger was escalating even before the war in Ukraine due to extreme and unpredictable weather patterns, protracted conflict and violence, and the COVID-19 pandemic. Then, by limiting access to critical wheat exports from the region, the war inflated food costs even further — at a time when families were already suffering. This was true in Turkana, where the worst drought in four decades has dried up grazing lands and caused the widespread death of livestock. Families who didn't have…
Thanks to your support immediately following the Syria earthquake, UNRWA provided thousands of affected refugees with: – Clean water, blankets, and hygiene kits – Mobile clinics for the injured in Neirab Camp – Shelter in UNRWA's Al-Khairiyeh School – Hundreds of food assistance packets – Trauma counselling for refugee children But our work is far from done.
Yaritza, a young mother living in Chinandega, Nicaragua, is focused on finishing her degree to ensure she can provide the best for her child. And adequate nutrition ensures she is able to focus on her studies as she works to achieve this goal.
Veronica Wambui, a water vendor in Korogocho, Kenya, was faced with a stark reality when the pandemic hit. Members of her community—an informal settlement with little infrastructure—could no longer pay for water, which put her livelihood at risk. But Wambui soon learned that Oxfam partner Koch Hope was providing water to her settlement as part of its COVID-19 response, and that Koch Hope needed vendors. Wambui signed on as a contractor, which not only kept her business afloat, but also allowed her to provide an essential service to her community. Oxfam and Koch Hope began this work in April 2021 as part of a project called Tuko Pamoja (We Are in This Together). Tuko Pamoja is part of a larger effort supported by #StartSmall, a philanthropic initiative launched by Jack Dorsey, Block Head, Chairman, and cofounder of Block Inc. In the last year, funding from #StartSmall supported projects to address…
Sabri's family fled Syria as refugees seeking safety in Lebanon (name changed). Even though he was eating, Sabri wasn't gaining weight. By the age of nine months, he weighed far less than he should. Sabri was referred to a clinic supported by IOCC. He was diagnosed with severe malnutrition and began treatment, including regular checkups. At one point, the team sent him to a hospital where he was treated first for bronchitis and then given emergency care when he went into cardiac arrest. Thanks to donor support, Sabri received the treatment he needed and could begin the long road to recovery. After six difficult months, Sabri is now thriving; his weight is normal for his age. "If it wasn't for IOCC," his mother said, "I wouldn't have been able to do anything for my child, and I could have lost him." All around the world, IOCC is providing access to…