Injustices like racial, religious and gender discrimination take place in communities at home and around the world. These biases amplify disparities in income, opportunity and privilege – increasing poverty and creating greater imbalances in health care, housing, education and more.
-1 in 33 people worldwide are in need of humanitarian assistance and protection.
-Husbands can legally prevent their wives from working in 18 countries.
-At least 69 countries have national laws criminalizing same-sex relations between consenting adults.
The good news is our charity partners listed below are working to achieve social justice and ensure that no one is left behind. Their programs to ensure human rights include education to create equality, advocacy for marginalized communities, protection services and more.
Explore the resources below to see the impact of their work.
Feeling inspired? Be a global champion and help achieve social justice by supporting Global Impact charities through your employee giving campaign.
---
Find a Charity
---
Explore the Impact
Give Global Blogs
At its basic level, social justice is the equitable distribution of wealth, opportunities and privileges for all people, especially underserved and marginalized populations. While this is important in America, it is also a basic, crucial need for people in developing countries. In each community, the oppressed and the oppressors vary. The drive for social justice exists everywhere, but every community has its unique needs to achieve equity. Our charity partners understand the need for local change when doing social justice work on a worldwide scale. In many countries, heightened punishments and human rights violations make the stakes higher and the…
In 2007 the United Nations General Assembly declared the World Day of Social Justice be commemorated annually on Feb. 20. COVID-19, in addition to conflict and climate change, has exacerbated the hardships vulnerable communities have faced these past two years, creating further imbalances in areas like health care, safety, housing, basic rights and more. In 2022, it is expected that 274 million people will need humanitarian assistance and protection, which is the highest figure in decades. These factors have not dampened spirits though. We've seen an incredible rise in conversation, education and charitable giving toward social justice throughout the pandemic. According…
A year ago, Global Impact said Black Lives Matter. We acknowledged some of our shortcomings and promised to better address diversity and inclusion within the organization. We committed to take action toward racial justice as individuals and a work community. Looking at the steps we outlined, it feels good to say that we have acted on each goal and continue to prioritize these ongoing action items. As we celebrate Juneteenth and its designation as a federal holiday this week, we're reflecting on our progress through the work we've done and continuing to chart our path forward. Partnerships  As a leader…
Images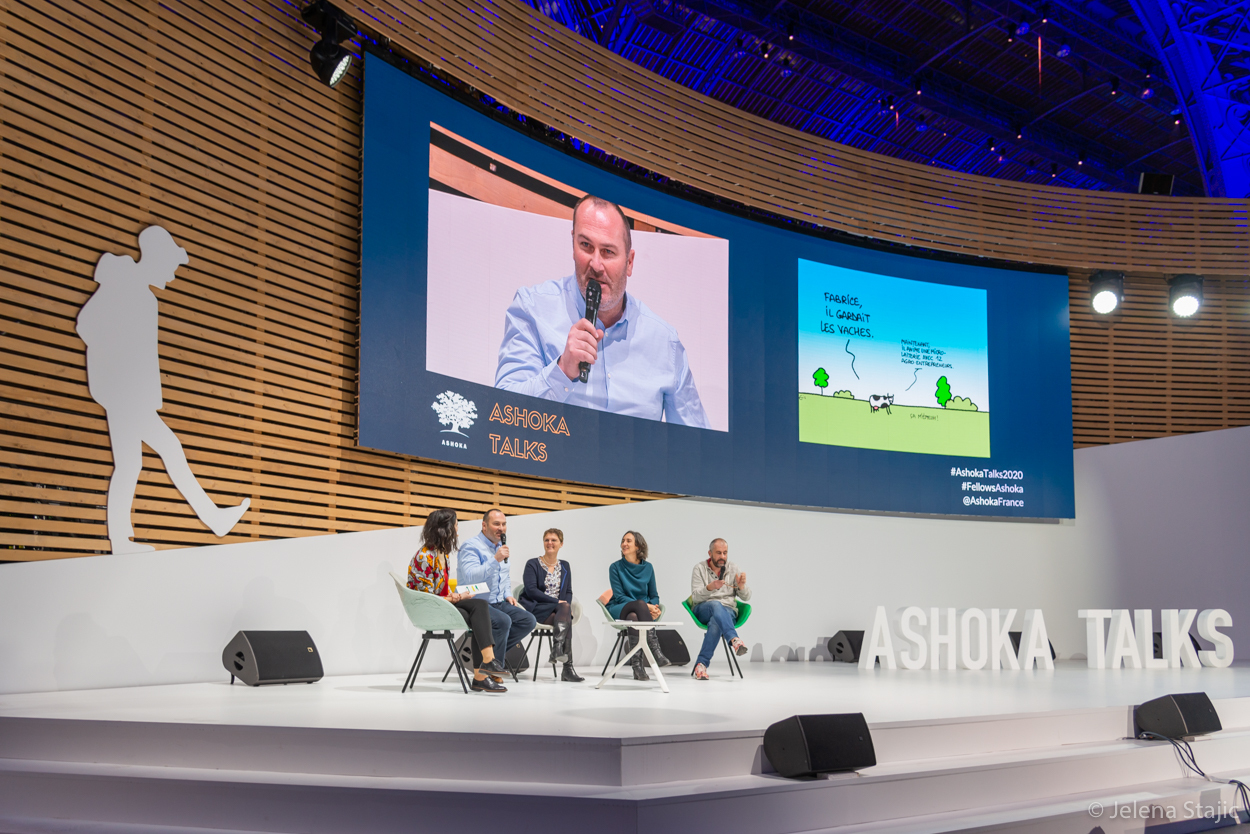 Title: Ashoka Fellow Fabrice Hégron discusses his work with a panel
Charity: Ashoka
Country: France
Photo Credit: Jelena Stajic / Ashoka
Social entrepreneur and Ashoka Fellow Fabrice Hégron discusses his nonprofit, En Direct Des Eleveurs, at an event hosted by Ashoka's team in France. His organization is revolutionizing the dairy industry in France by developing small-scale farming alternatives. Through new modes of production and distribution that respect the environment and offer healthy milk, he positions dairy producers as wellness partners and reconnects them with consumers. This creates a viable subsidy-free economic model to maintain a collapsing industry.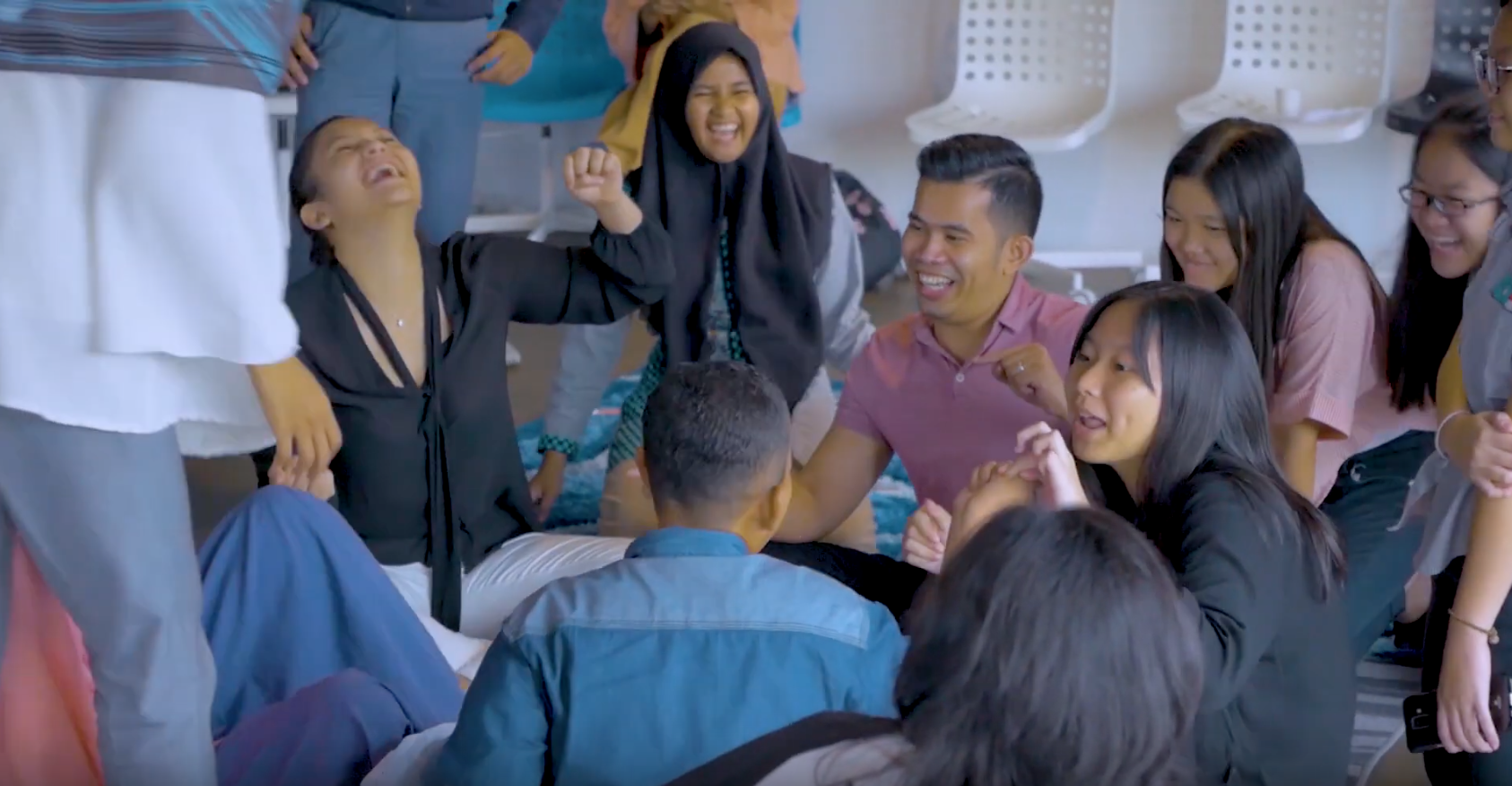 Title: Ashoka Young Changemakers connect in Indonesia
Charity: Ashoka
Country: Indonesia
Photo Credit: Ashoka
Young Indonesians selected as Ashoka Young Changemakers (AYC) bond over their shared enthusiasm for driving social change. Each young changemaker elected has launched a social venture in their community, formed peer-led teams, and co-created solutions for the good of all. The AYC network is a global community of powerful young people who are helping activate more youth-led ventures.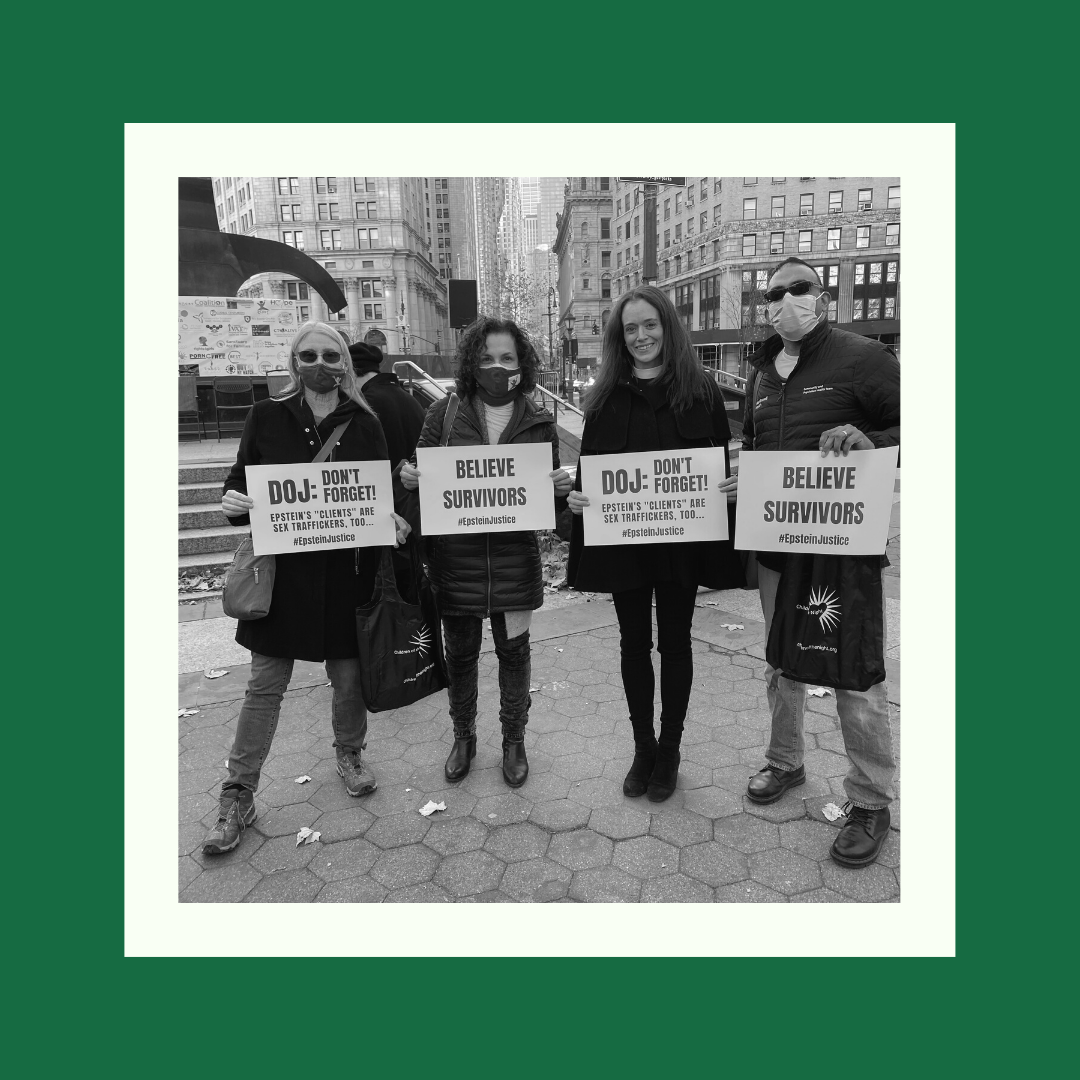 Title: A Rally for Survivors
Charity: ECPAT-USA
Country: United States of America
Photo Credit: ECPAT-USA
ECPAT-USA proudly joined A Rally for Survivors in Solidarity with the Jeffrey Epstein and Ghislaine Maxwell Survivors. This was a day of community and healing for all survivors and a demand for justice and transparency. To learn more about ECPAT-USA's work, visit www.ecpatusa.org.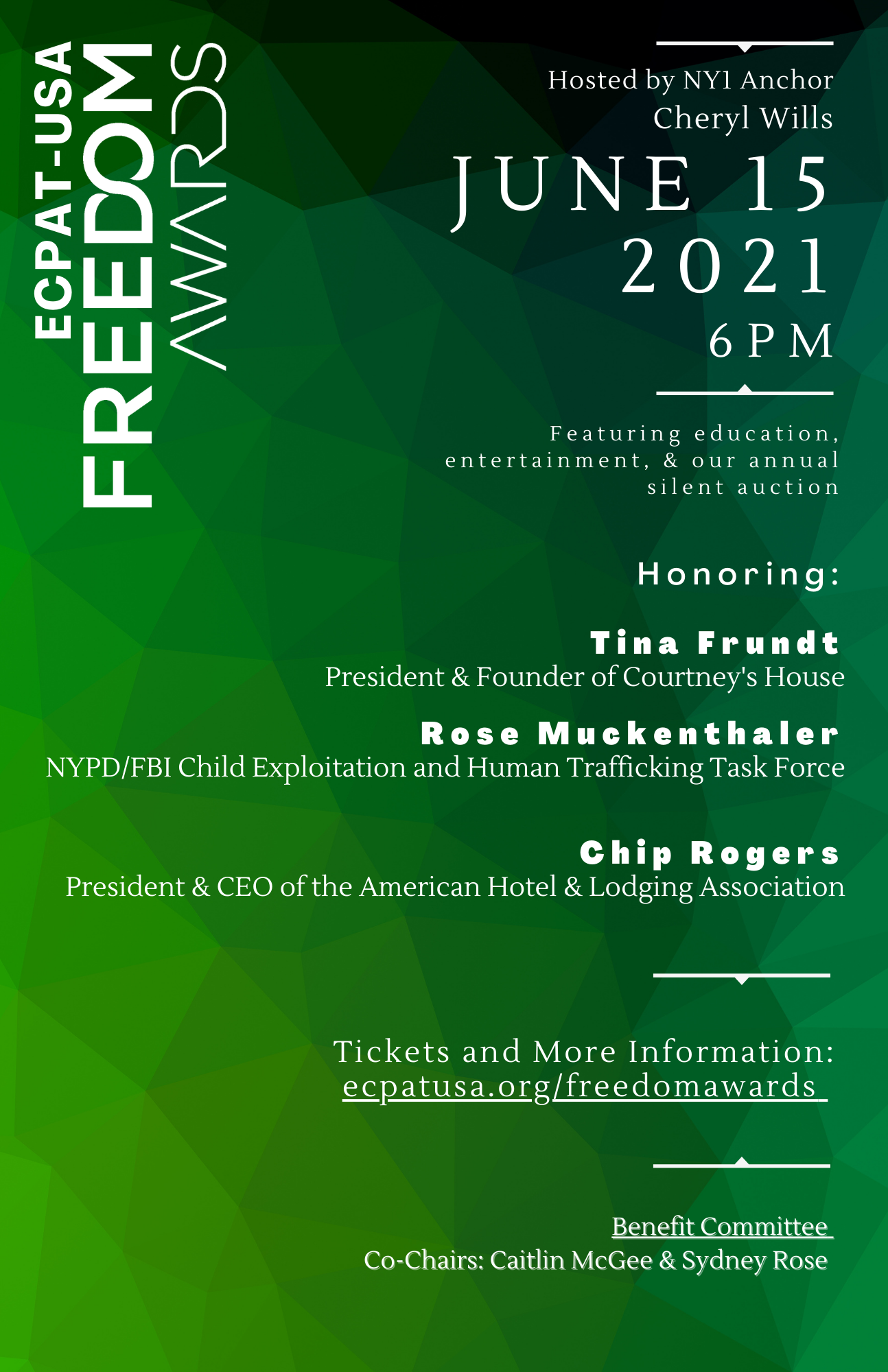 Title: 2021 Freedom Awards
Charity: ECPAT-USA
Country: United States of America
Photo Credit: ECPAT-USA
Each year, the Freedom Awards gathers advocates, influencers, private industry partners, and other special guests to honor leaders in the fight to end child trafficking and other forms of sexual exploitation. In 2021, we were proud to gather virtually to honor Chip Rogers, President & CEO of the American Hotel & Lodging Association; Tina Frundt, President & Founder of Courtney's House; and Rose Muckenthaler, NYPD/FBI Child Exploitation and Human Trafficking Task Force. Watch ECPAT-USA's full Freedom Awards benefit at www.ecpatusa.org/freedomawards. Learn more about ECPAT-USA's child protection work at www.ecpatusa.org/.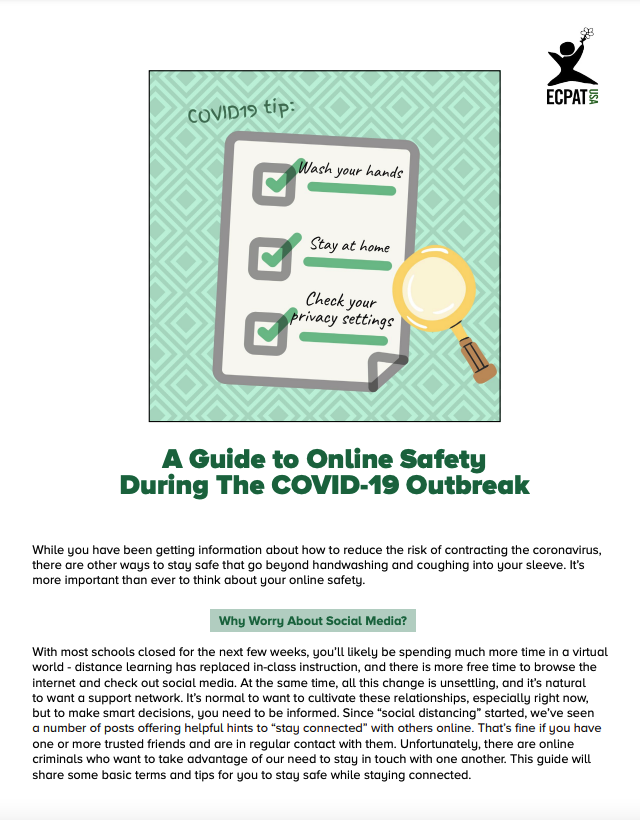 Title: ECPAT-USA's Guide to Online Safety
Charity: ECPAT-USA
Country: United States of America
Photo Credit: ECPAT-USA
ECPAT-USA provides free information for youth, parents/guardians, and educators detailing the ways they can protect themselves and their children from sexual exploitation. Each safety guide is available for free online and can be easily downloaded and shared with others. Guides are available in English, Spanish, Chinese, and Vietnamese. View ECPAT-USA's Online Safety Guides by visiting www.ecpatusa.org/onlinesafetytips.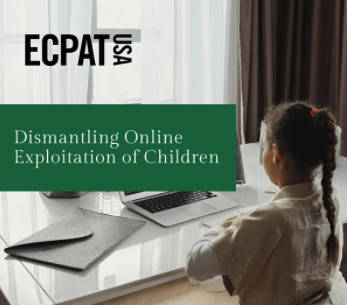 Title: Dismantling Online Exploitation of Children
Charity: ECPAT-USA
Country: United States of America
Photo Credit: ECPAT-USA
January is National Human Trafficking Prevention Month. To honor this special month, ECPAT-USA was proud to host a panel, "Dismantling Online Exploitation of Children," with other leaders in the anti-trafficking and children's rights communities. Together, the collective goal is to spearhead federal legislation that will require internet platforms to take steps toward the elimination of child sexual abuse material (CSAM), formerly called "child pornography."
Title: 2021 Survivor Solidarity Ride
Charity: ECPAT-USA
Country: United States of America
Photo Credit: ECPAT-USA
Each year, the Survivor Solidarity Ride brings awareness to the reality that child trafficking is happening in every state in the nation. This ride highlights locations where survivors have indicated they were trafficked and where there have been reports of child exploitation. In doing so, it symbolizes ECPAT-USA's solidarity with the brave men and women in its Survivors' Council and celebrates their leadership in ECPAT-USA's prevention programming. In 2020, ECPAT-USA rode through New York City. In 2021, as celebration of the launch of Brentwood School District Prevention Services Program, ECPAT-USA rode through Suffolk County, New York. Learn more about ECPAT-USA's work by visiting our website at www.ecpatusa.org.
Title: The Koroma Family: A family in the HCW support program
Charity: Helping Children Worldwide
Country: Sierra Leone
Photo Credit: CRC Data team
Helping Children Worldwide through the Child Reintegration Centre supports over 600 vulnerbale children in 450 families. This is one of the families in the program.
Videos
Success Stories
Human Rights Watch launched a campaign in April asking the Greek government to free hundreds of unaccompanied migrant children held in unhygienic police cells and detention centers, where they face increased risk of contracting the coronavirus. Weeks after #FreetheKids launched, the Greek parliament reduced the maximum time an unaccompanied child could be detained from 45 days to 25. Talking to the media, the Greek special secretary for the protection of unaccompanied children also committed to ending child detention by the end of the year. Portugal announced it would take in 500 unaccompanied children from Greece, while France said it would take in 350 children. Since then, another 11 European Union member countries have joined the coalition, committing to relocate hundreds of asylum seekers and unaccompanied children.
ECPAT-USA's Youth Against Child Trafficking (Y-ACT) program empowers youth to take the lead in anti-human trafficking efforts. ECPAT-USA trains students to be the foremost advocates in their communities and among their peers, educating them on the facts, misconceptions, and risks of trafficking. Students are provided the tools needed to identify the warning signs and proper resources to protect themselves and their peers. During one early morning workshop, the education team saw a student transition from avoiding the workshop altogether to becoming an active participant and advocate by the end. Prior to the class session, the Y-ACT educators positioned the chairs in a semicircle at the center of the room. At the start of the period, instead of sitting in the semicircle with the rest of their classmates, this student opted to find a seat behind a desk in the back left corner of the room. When handing out the pre-workshop…
Bogota, Colombia is a capital city filled with commerce and tourism. But, just outside the city center exists a noticeable contrast in housing and economic development where the poorest families reside. Many of the city's poorest families live on the outskirts in the mountains, and they have very difficult commutes into the city center for work. Without daycare, many of the young parents would not be able to earn an income to support their families. Fe y Alegria, a Jesuit network of organizations helping the disadvantaged and poor since 1955, has preschools within this community offering free services to children up to 5 years of age. These services include: monitoring and evaluating the child's development, nutritional supplementation and home interventions when needed. The administrator of the preschool feeds the children three nutritious meals per day. Although it doesn't sound like a huge accomplishment, she does this on just $1 (one…
Michel became a mom in June 2021, when baby Nathan was born; she's part of the Wayuu community. She lives with her dad, brother and another child that a friend asked her to care for two years ago. She's a medical laboratory technician and holds a B.A. in Administration. Although she currently works as a Procurement Analyst, she doesn't make enough to pay for basic needs. Michel has participated in different IRC-supported programs in the community center that is located a couple blocks away from her house. She first visited to get attention after experiencing pain while breast feeding, that's how she joined the breast-feeding orientation program, in which she has now started to participate to share with other moms-to-be her experience. Additionally, she has joined the Wapushii program after Nathan was born, where she learns how to promote his development during the Early Childhood stage; she also has accessed…
Prabin, 5, lives in southeastern Nepal with his parents. He was born without the lower part of his right leg. "Because of the disability of our child we were worried about his future," says Sunita, Prabin's mother. A community mobilizer from Community Based Rehabilitation-Biratnagar (CBRB), a local partner organization of Humanity & Inclusion, met Prabin and referred the family to seek services at a rehabilitation center. At first, Prabin was hesitant to be fitted with an artificial limb. Specialists worked with the boy and his parents to better understand how the device would work, and how it would help him. A month later, he was eager to have a new leg. "This was a wonderful change for our little boy, as he quickly accepted the prosthesis and began playing, running, and even jumping like any other child of his age," Sunita explains. Prabin attends school and loves to play with…
To combat human trafficking made possible by many elements of society, Ashoka Fellow Ioana Bauer is taking the whole enabling system apart. Romania is the epicenter of trafficking in Europe. Of all European countries, Romania has the highest number of identified labor and sex trafficking victims, nearly half of whom are minors. Globally, human trafficking is an industry worth 150 billion dollars annually and directly impact at least 40 million people who are currently living in some form of slavery. To have any serious impact on trafficking, Ioana knew that she had to change the culture in which vulnerable young people are growing up. A teen's peers have significant influence on her life, so Ioana focused on building awareness among teens so that they can protect each other. She now has mandatory anti-trafficking courses in all high schools. She also created a program that has trained over 6,000 teachers how…