Human trafficking is challenging to discuss – and even upsetting to think about. But victims deserve our support, so it's important for us to talk about it. They need us to speak out and take action against what's happening. Since the COVID-19 pandemic began, technology has helped trafficking move further underground, and limited government capacity makes it harder for local officials to reach and save victims.
-An estimated 168 million children worldwide are engaged in child labor.
-Women and girls are disproportionately affected by human trafficking, accounting for 71% of all victims.
-3.8 million adults are trafficked for forced sexual exploitation and 1 million children are trafficked for commercial sexual exploitation.

The good news is our charity partners listed below are working to end human trafficking. Their programs include advocacy for slavery-free commerce, rescue and rehabilitation, awareness training, reducing violence against women and children, and more.
Explore the resources below to see the impact of their work.
Feeling inspired? Be a global champion and help end human trafficking by supporting Global Impact charities through your employee giving campaign.
---
Find a Charity
---
Explore the Impact
Give Global Blogs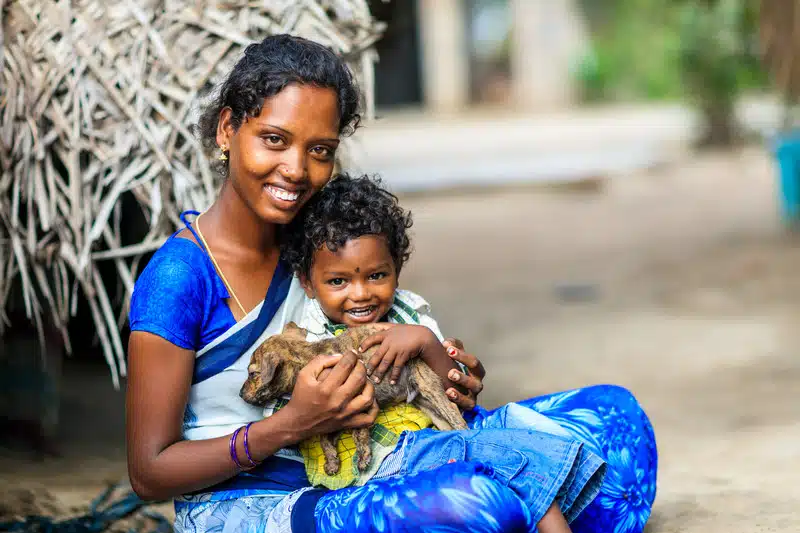 Human trafficking is often a difficult topic to talk about – and even more challenging for those working to end human trafficking every day. There are more than 40 million human trafficking victims worldwide, including men, women and children trapped in forms of modern slavery: from forced labor to sexual exploitation. Human trafficking occurs in nearly every country around the globe stemming from both in-person and online targeting.
Human trafficking is one of the hardest international relief and development causes to talk about. The crime has been documented in 148 countries, and includes forced sexual exploitation, labor, involuntary marriage, organ trade and more. An estimated 40.3 million people are trafficked each year, and roughly a third of those are children under the age of 18. While some hoped that restricted travel during the COVID-19 pandemic would reduce trafficking, our charity partners fear the opposite – technology has helped move trafficking further underground, and limited government capacity makes it harder for local officials to reach and save victims. This…
You might be surprised to learn that tens of millions of people around the world are enslaved. I was. Yes, slavery has been outlawed, but it has not been eliminated. And, unfortunately you and I could be supporting slave labor without even knowing it. The items we regularly purchase can so easily come from a corrupt supply chain. Free the Slaves is working to fix that. The chain from slave to store Modern slavery, or new slavery, is hidden in a way that old enslavement was not. Unlike the slavery we read about in our history books, forced labor is…
Human trafficking, which includes forced labor and sexual exploitation, is far more widespread than many realize. It is an industry that brings in about $115 billion annually with an estimated 40.3 million victims globally. Thanks to the work of organizations like World Relief, a Global Impact charity alliance partner, the issue is not being ignored. World Relief is an organization that mobilizes and equips local churches and communities to not only combat slavery and human trafficking, but to help heal and rehabilitate survivors. Test your knowledge about human trafficking and some of the shocking statistics. Then learn about the work…
Images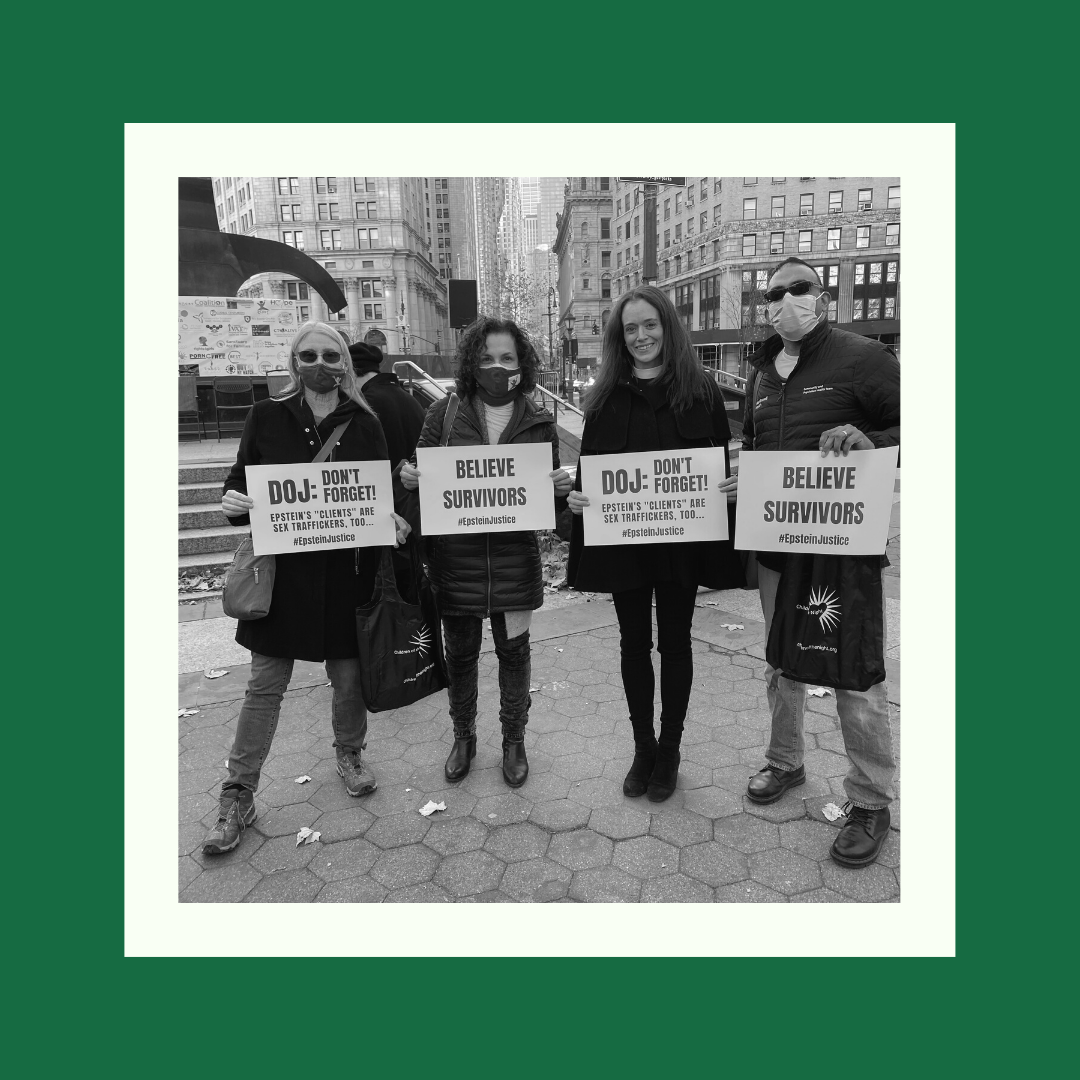 Title: A Rally for Survivors
Charity: ECPAT-USA
Country: United States of America
Photo Credit: ECPAT-USA
ECPAT-USA proudly joined A Rally for Survivors in Solidarity with the Jeffrey Epstein and Ghislaine Maxwell Survivors. This was a day of community and healing for all survivors and a demand for justice and transparency. To learn more about ECPAT-USA's work, visit www.ecpatusa.org.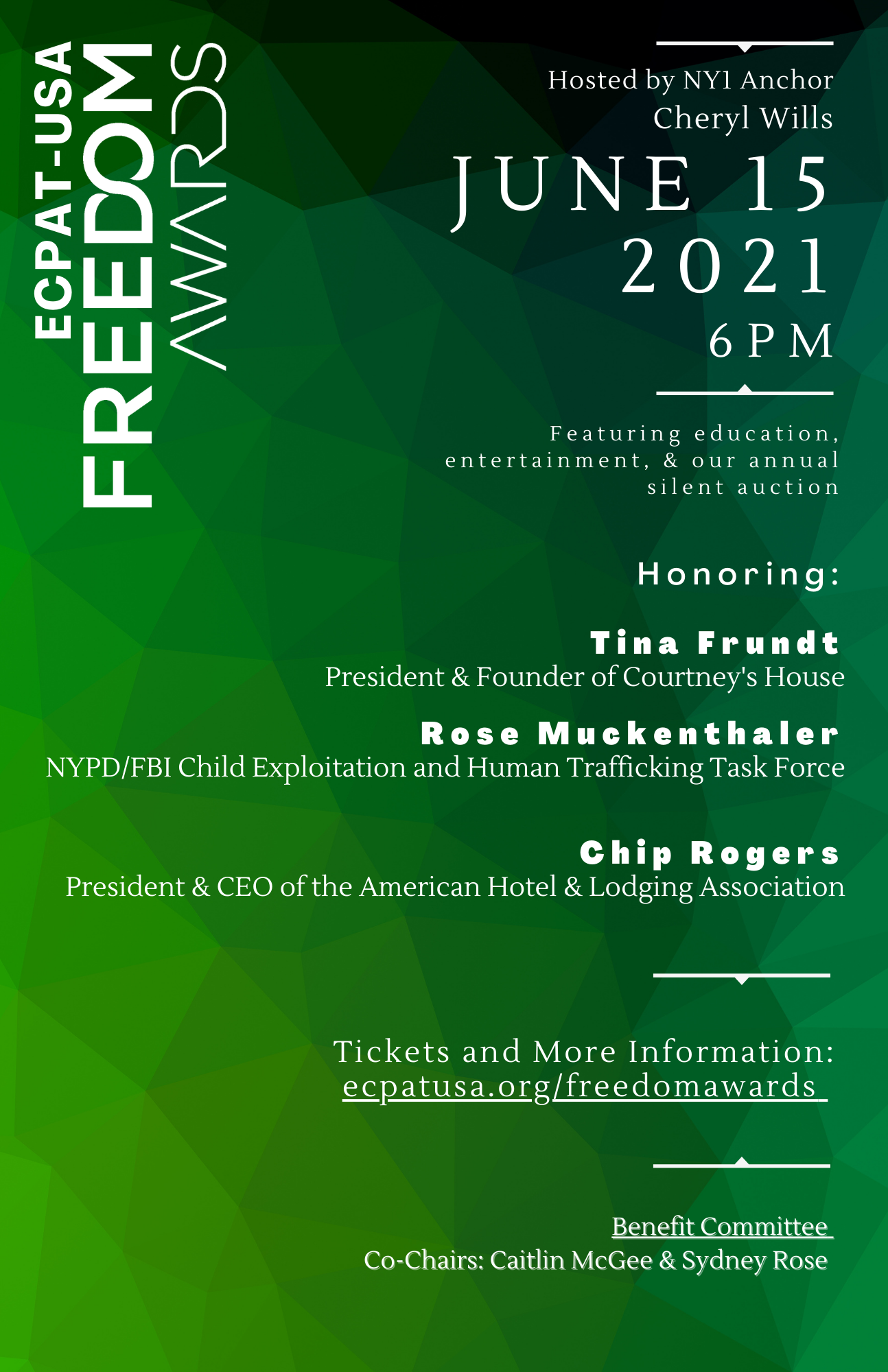 Title: 2021 Freedom Awards
Charity: ECPAT-USA
Country: United States of America
Photo Credit: ECPAT-USA
Each year, the Freedom Awards gathers advocates, influencers, private industry partners, and other special guests to honor leaders in the fight to end child trafficking and other forms of sexual exploitation. In 2021, we were proud to gather virtually to honor Chip Rogers, President & CEO of the American Hotel & Lodging Association; Tina Frundt, President & Founder of Courtney's House; and Rose Muckenthaler, NYPD/FBI Child Exploitation and Human Trafficking Task Force. Watch ECPAT-USA's full Freedom Awards benefit at www.ecpatusa.org/freedomawards. Learn more about ECPAT-USA's child protection work at www.ecpatusa.org/.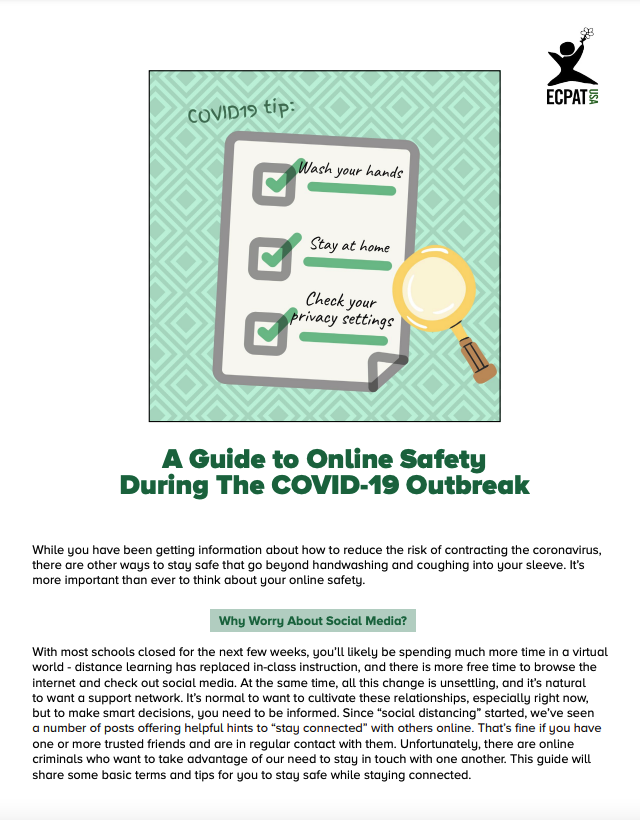 Title: ECPAT-USA's Guide to Online Safety
Charity: ECPAT-USA
Country: United States of America
Photo Credit: ECPAT-USA
ECPAT-USA provides free information for youth, parents/guardians, and educators detailing the ways they can protect themselves and their children from sexual exploitation. Each safety guide is available for free online and can be easily downloaded and shared with others. Guides are available in English, Spanish, Chinese, and Vietnamese. View ECPAT-USA's Online Safety Guides by visiting www.ecpatusa.org/onlinesafetytips.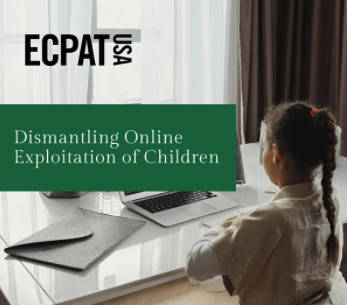 Title: Dismantling Online Exploitation of Children
Charity: ECPAT-USA
Country: United States of America
Photo Credit: ECPAT-USA
January is National Human Trafficking Prevention Month. To honor this special month, ECPAT-USA was proud to host a panel, "Dismantling Online Exploitation of Children," with other leaders in the anti-trafficking and children's rights communities. Together, the collective goal is to spearhead federal legislation that will require internet platforms to take steps toward the elimination of child sexual abuse material (CSAM), formerly called "child pornography."
Title: 2021 Survivor Solidarity Ride
Charity: ECPAT-USA
Country: United States of America
Photo Credit: ECPAT-USA
Each year, the Survivor Solidarity Ride brings awareness to the reality that child trafficking is happening in every state in the nation. This ride highlights locations where survivors have indicated they were trafficked and where there have been reports of child exploitation. In doing so, it symbolizes ECPAT-USA's solidarity with the brave men and women in its Survivors' Council and celebrates their leadership in ECPAT-USA's prevention programming. In 2020, ECPAT-USA rode through New York City. In 2021, as celebration of the launch of Brentwood School District Prevention Services Program, ECPAT-USA rode through Suffolk County, New York. Learn more about ECPAT-USA's work by visiting our website at www.ecpatusa.org.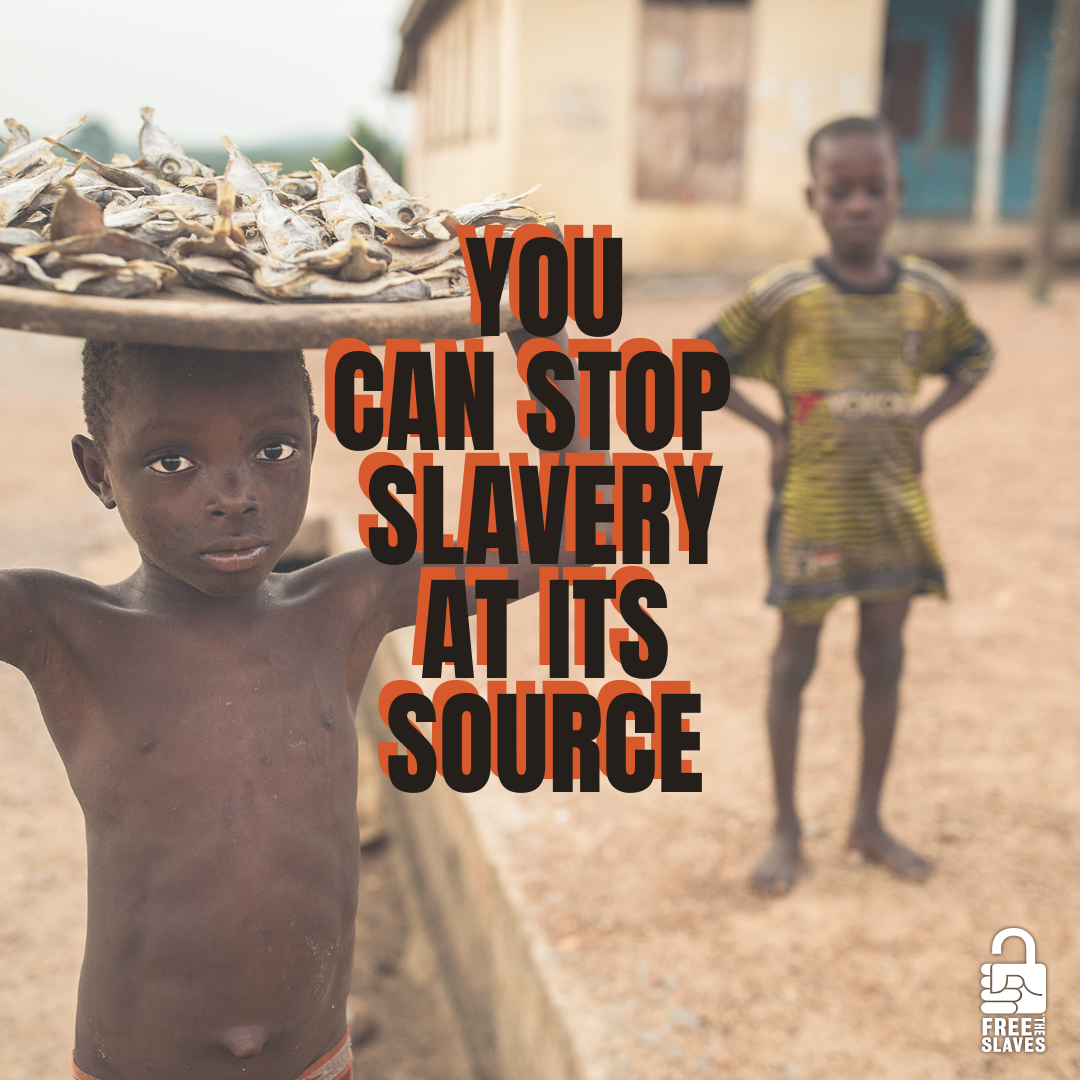 Title: Stop Slavery at its Source
Charity: Free the Slaves
Country: Haiti
Photo Credit: Lily Bivins / Free The Slaves
Do you know why slavery persists in the 21st century? Poverty. Many children and young adults from impoverished families are lured into servitude by traffickers who offer cash payments and a promise to teach valuable skills. Instead, they are overworked, mistreated, and underfed. Many are beaten. Their rights are ignored. Vulnerable populations often lack the tools and education to protect themselves from traffickers.
Videos
Success Stories
ECPAT-USA's Youth Against Child Trafficking (Y-ACT) program empowers youth to take the lead in anti-human trafficking efforts. ECPAT-USA trains students to be the foremost advocates in their communities and among their peers, educating them on the facts, misconceptions, and risks of trafficking. Students are provided the tools needed to identify the warning signs and proper resources to protect themselves and their peers. During one early morning workshop, the education team saw a student transition from avoiding the workshop altogether to becoming an active participant and advocate by the end. Prior to the class session, the Y-ACT educators positioned the chairs in a semicircle at the center of the room. At the start of the period, instead of sitting in the semicircle with the rest of their classmates, this student opted to find a seat behind a desk in the back left corner of the room. When handing out the pre-workshop…
Michel became a mom in June 2021, when baby Nathan was born; she's part of the Wayuu community. She lives with her dad, brother and another child that a friend asked her to care for two years ago. She's a medical laboratory technician and holds a B.A. in Administration. Although she currently works as a Procurement Analyst, she doesn't make enough to pay for basic needs. Michel has participated in different IRC-supported programs in the community center that is located a couple blocks away from her house. She first visited to get attention after experiencing pain while breast feeding, that's how she joined the breast-feeding orientation program, in which she has now started to participate to share with other moms-to-be her experience. Additionally, she has joined the Wapushii program after Nathan was born, where she learns how to promote his development during the Early Childhood stage; she also has accessed…
A fight against the spread of hunger is underway across East Africa, where 32.9 million people are experiencing a complex hunger crisis driven by conflict, the economic impacts of the global pandemic, swarms of desert locusts, and extreme weather conditions. According to the United Nations, at least 5.3 million people in Ethiopia, South Sudan, and Sudan are living under "emergency" conditions, with the threat of acute malnutrition and death. In South Sudan, 105,000 are living under "catastrophic" levels of food insecurity. By air, land, and sea, World Vision teams are delivering emergency food supplies across the region—an area so vast it equates to more than half the size of the United States—in a race to feed hungry families living in some of the most dangerous and isolated places on earth. "We are marshaling resources to support vulnerable communities across East Africa to avert the catastrophic effects of hunger and loss…
Kashi* was only 5 years old when strangers took her from her parents and sold her into domestic servitude to a wealthy family in Mumbai. For the next ten years, she cooked and cleaned around the clock while facing disturbing physical, emotional and sexual abuse. Later, the family took 15-year-old Kashi to Kolkata and began exploiting her for sex in a massive red-light district. IJM investigators found and rescued Kashi in April 2013, but it took years for her to rebuild confidence and learn to trust again. As she began to open up, Kashi was able to go to school for the first time and—with IJM's support—discovered her talents for leadership and public speaking. Today, she's passionate about using her experiences to help change India, saying, "This is my identity, where I won't have to shy my eyes from anyone. I will not have to be scared because of my…
To combat human trafficking made possible by many elements of society, Ashoka Fellow Ioana Bauer is taking the whole enabling system apart. Romania is the epicenter of trafficking in Europe. Of all European countries, Romania has the highest number of identified labor and sex trafficking victims, nearly half of whom are minors. Globally, human trafficking is an industry worth 150 billion dollars annually and directly impact at least 40 million people who are currently living in some form of slavery. To have any serious impact on trafficking, Ioana knew that she had to change the culture in which vulnerable young people are growing up. A teen's peers have significant influence on her life, so Ioana focused on building awareness among teens so that they can protect each other. She now has mandatory anti-trafficking courses in all high schools. She also created a program that has trained over 6,000 teachers how…
Meet Carline Like many people in rural Haiti, Carline grew up in poverty. As a child, Carline's family struggled to care for her. When she got older, she was sent to live with another family. Although her family thought Carline would be cared for, she endured enslavement and abuse. As an adult, Carline struggled to provide for her children in her community on LaGonave Island. Her family battled hunger and homelessness. When a friend of Carline's asked to take her seven-year-old daughter, Claudia, Carline thought it was a good thing. Carline said, "I trusted her to care for Claudia and send her to school." Then, Claudia was sent to live with a different family, just as her mother was many years ago. Around that same time, Free the Slaves and Beyond Borders began working in Carline's community, offering child rights training and organizing adult survivors of child slavery. This opened…