Health and wellness looks different in every country and on every continent. What some may regard as a right in one country, is inaccessible or scarce in another. Global health represents the environments that affect physical, social and mental well-being for all humans.
Global Impact has established a Global Health Fund that benefits six charities working worldwide to improve and enrich health conditions in developing countries, and we have hand-picked charity photos that represent the trials and joys of people on the path to wellness.
We encourage you to be inspired by the great work that our charity partners are doing around the world. Your generous donation today benefits the following charities:
ChildFund International
Compassion International
Himalayan Cataract Project
Medical Teams International
Save the Children
AMREF Health Africa
Community health workers around the world are changing the landscape of healthcare in their communities. In Kibera, Kenya, an AMREF Community Health Worker works onsite in the community to advance fundraising and research for the Vaccine Solidarity Campaign.
Medical Teams International
Despite a decade long decline, infant and maternal mortality is still a pressing issue in underdeveloped countries. Pictured here, Florence from Uganda suffered major birth complications during childbirth. It was a local midwife who sprung into action and saved their lives. With more resources and midwife training in remote communities, more mothers- and babies- have a chance at living and thriving.
Basic health necessities are crucial for incoming refugee children, including diapers and other youth supplies. Pictured here, Save the Children President and CEO Janti Soeripto displays some of the child-focused supplies Save the Children is providing to newly-arriving Afghan refugee children and families in the U.S.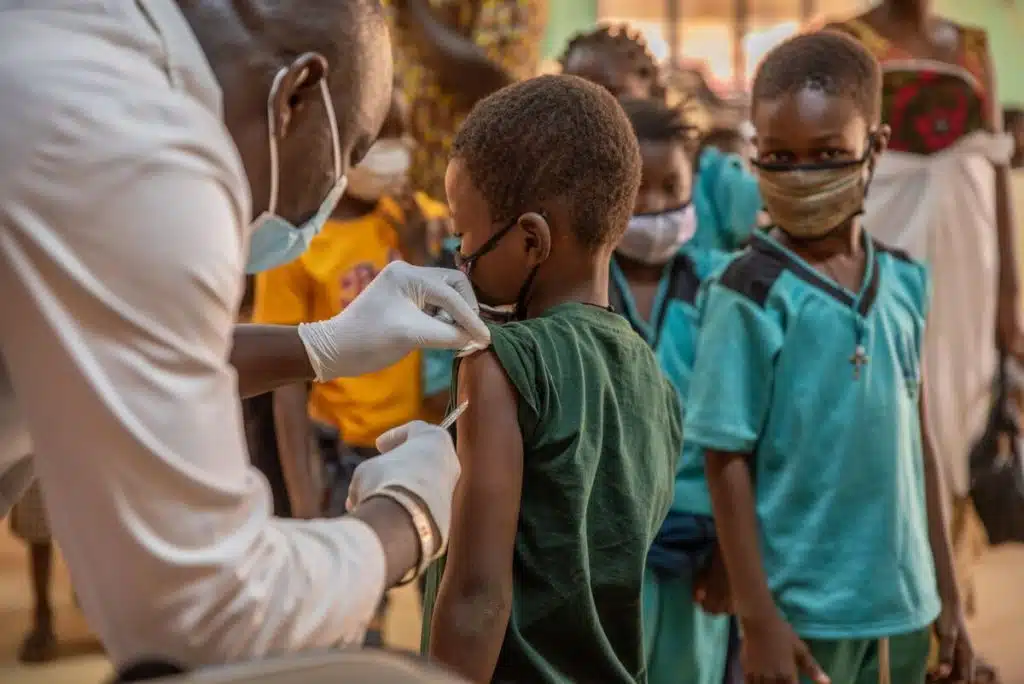 In Burkina Faso, a child receives a much-needed vaccine to stay healthy. While the COVID-19 vaccine has been at the forefront of minds, many developing countries are still in need of basic vaccines to protect their citizens.
As girls in emerging countries grow, they are often forced to leave school during puberty because of lack of resources and sanitary needs at school. With contributions from charity partners, more children can stay healthy with proper sanitation facilities… allowing them to earn their education.
Himalayan Cataract Project
In remote communities, vision screening and surgery is inaccessible, but Himalayan Cataract Project aims to change that through low cost screening and operations. Pictured here, a surgical team from the Tilganga Institute of Ophthalmology help patients regain their sight at an outreach site in Ramechhap, Nepal.
Inspired to help advance global health initiatives and assist the communities in these photos? Take a moment to donate to our Global Health Fund and share this post with colleagues, friends and family!