Give Global Blog
As I began writing this post, it felt hard to switch from the crisis in Ukraine to focusing on clean water charities for our March Cause of the Month. At least, that's what I thought when I started. But I was quickly reminded how global problems and, more importantly, global solutions are interconnected. Championing one cause almost always adds to progress in other cause areas. The Ukrainian refugee crisis is also a reminder of how meeting the most basic needs like shelter and safety – many of which we take for granted – can make a huge difference for those…
---
Charity Photos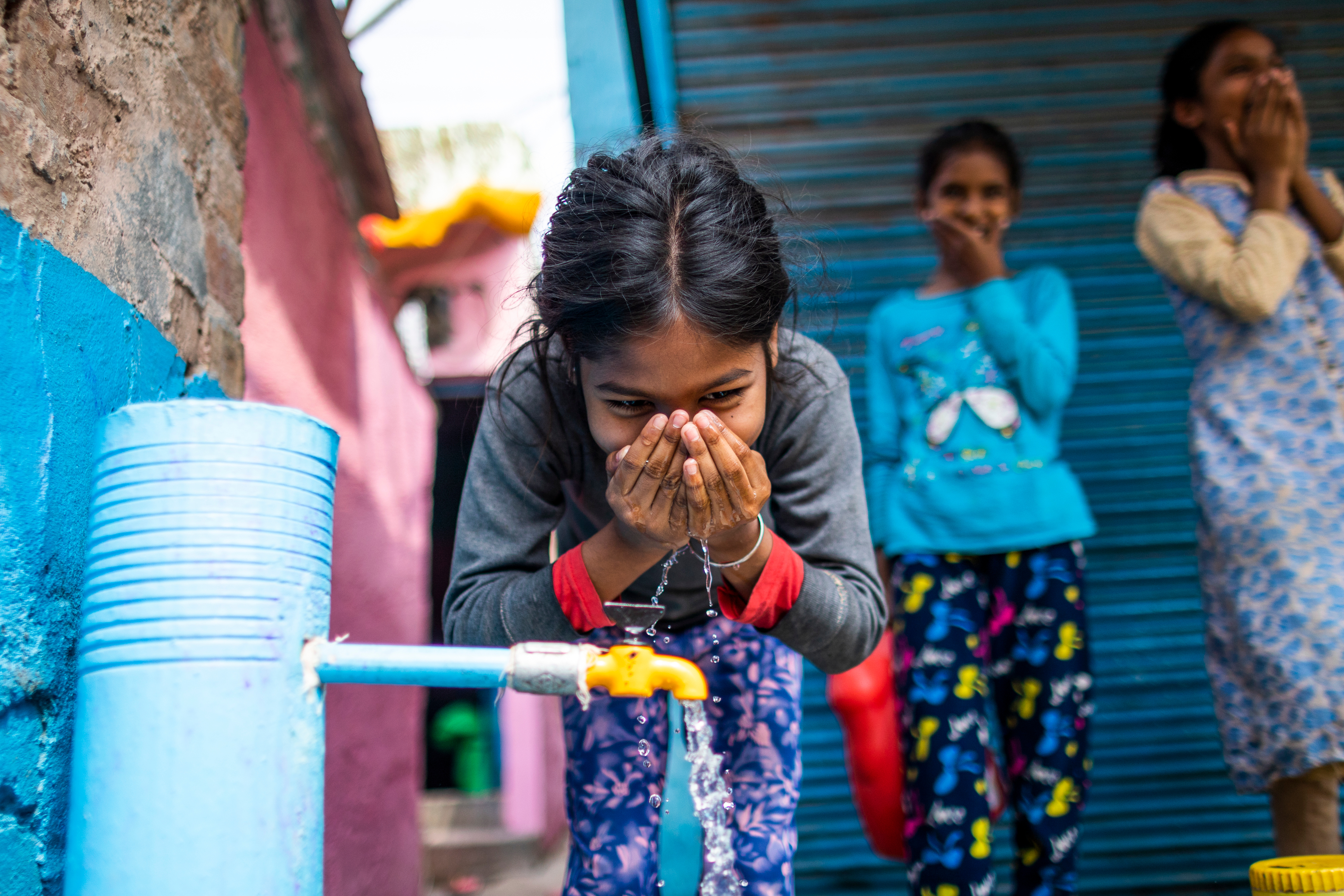 Title: Sneha (10) drinks water from an installed standpost in India
Charity: WaterAid
Country: India
Photo Credit: WaterAid/ Srishti Bhardwaj
With the help of the local MLA, Girish Soni (Madipur), WaterAid India and EFRAH availed space to build a water tank in the land of PWD and ensured that everyday Delhi Jalboard's portable tank will come two times and provide water to the people through the piped water system from stand post connected with tanker water. Apart from providing clean drinking water, community mobilisers motivated each household to maintain good hygiene practices, use toilets and clean them regularly and ensure their surroundings are clean as well. The anganwadi center provided space to conduct monthly session with adolescence girls and pregnant women on menstrual hygiene management and educate children on the importance of clean water, decent toilets and good hygiene. The community has also learnt the importance of solid and liquid waste management (SLWM). They are now able to segregate and dispose the waste. It is interesting to note the involvement of community members so as to help and support in the overall objective of improving the water, sanitation and hygiene situation in the slum. As a part of the intervention, two community toilets have also been constructed by Delhi Municipality Corporation after diligent advocacy efforts with key officials and stakeholders. Moreover, some households have also built personal toilets at home. Raghubir Nagar is an urban poor settlement that is situated in western part of Delhi. The slum is around thirty years old. The total number of households in this settlement is around 1400 according to Anganwadi. The slum is situated on government land and now Delhi government is planning to relocate these families within few years. The community members of this area do not have any legal papers. They are mostly occupied in working as daily wage earner, laborers and domestic workers. The whole area comes under the observation of DUSIB (Delhi Urban Shelter Improvement Board). WaterAid India and its partner, EFRAH began the intervention with 200 households of Raghubir Nagar in 2019, with the support of Altico Capital India Ltd., a non-banking financial company. Baseline studies and regular on-ground visits revealed that the community experienced severe water scarcity. Since the last 30 years, the residents didn't have access to safe drinking water and borewell water. However, fifteen years ago, the local people somehow managed to get borewell water for household activities with the help of the MLA, although the community still struggled for clean drinking water. The community had to spend more than two hours every day to fetch water or at least fifty to hundred rupees daily to purchase it. As a part of the intervention, the community was mobilised to take this forward. Soon, they organised meetings with the area MLA and wrote a letter to him and Delhi Jal Board. Their constant efforts led to the MLA approving the request and ensuring clean drinking water for the people. Along with that representatives of EFHRA, the community members went to MLA for availing a space on the land of PWD to build a water tank which is now connected with stand post through piped system.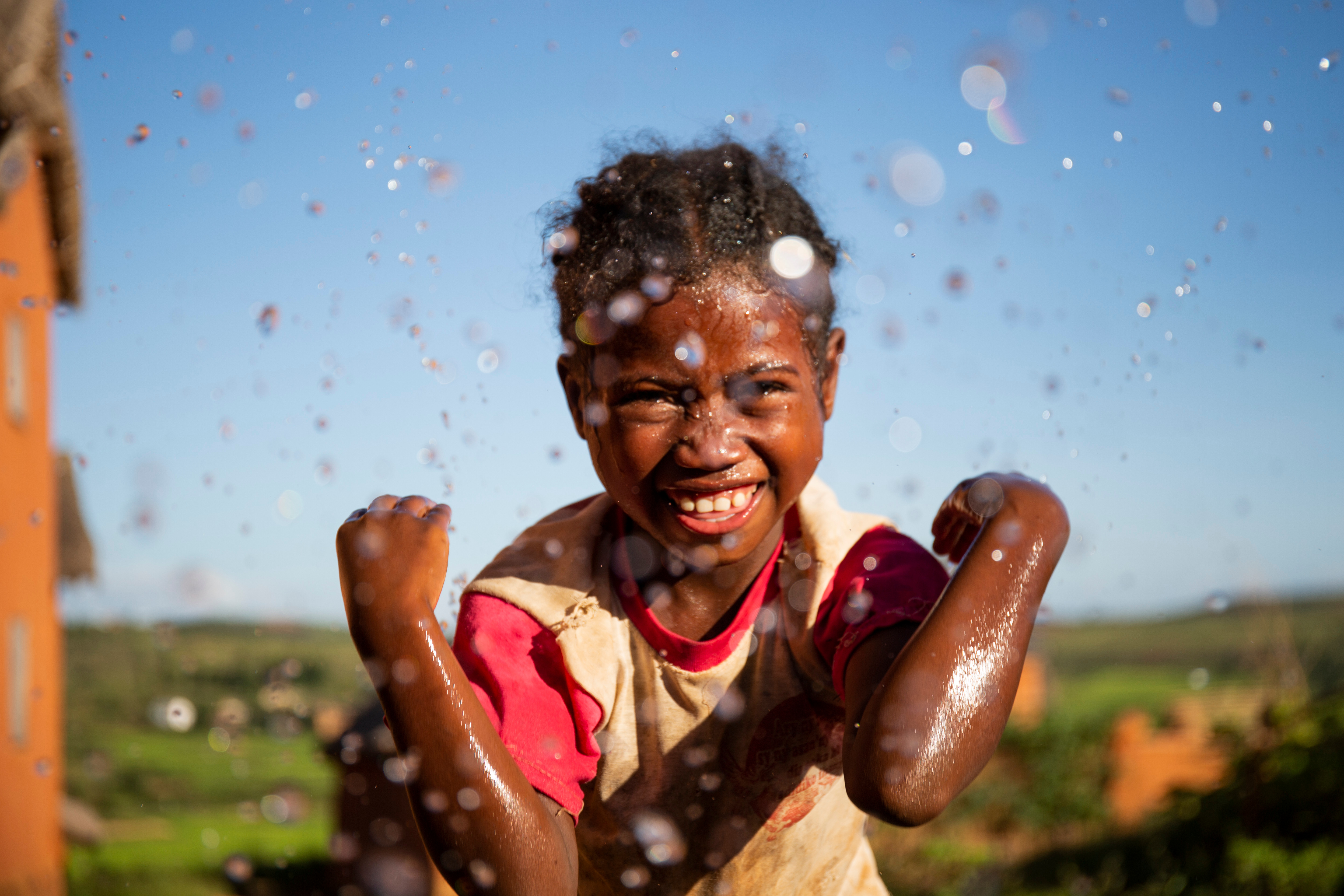 Title: Ifaliana, 8, washing herself outside her house in Antanetike
Charity: WaterAid
Country: Madagascar
Photo Credit: WaterAid/ Ernest Randriarimalala
"Before we went nearby the rice field down the hill to fetch water or wash ourselves. Now we no longer have to, as we have taps nearby." Ifaliana, 8, washing herself outside her house in Antanetikely village, Tsimialona Fokontany, Fihaonana commune, Analamanga region, Madagascar, February 2019. With support from Wessex Water, WaterAid has reached more people inside Fihaonana commune in the Analamanga district with clean water, decent sanitation and hygiene education. Fihaonana and Ankazobe areas are two of the areas in Madagascar with the highest level of chronic malnutrition, which affects mainly children, and the lack of clean drinking water used to worsen the situation. WaterAid has implemented adequate and sustainable gravity-fed schemes which feed fountains, sanitation blocks equipped with toilets, showers and handwashing stations in communities, schools and health centres in Fihaonana villages. Since then, things have changed in these villages. Local leaders and authorities, health centre workers and teachers, local technicians and communities have been involved since the beginning of the project, and have received training in order to manage the systems and sustain all the behaviour change learned and practised during the implementation of this Wessex Water funded two-year project in the Fihaonana commune.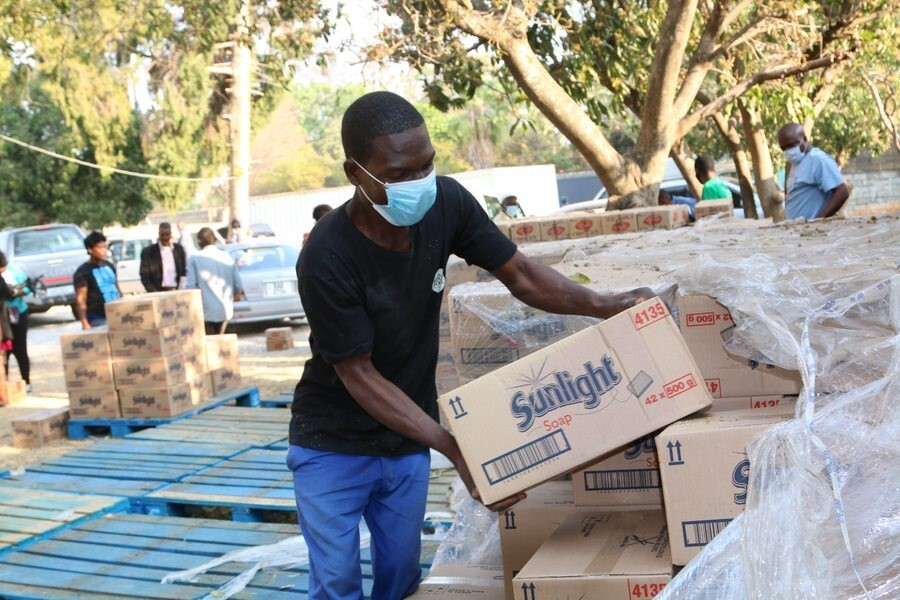 Title: Zambia Country Director distributing soap and sanitizer
Charity: WaterAid
Country: Zambia
Photo Credit: WaterAid
WaterAid Zambia Country Director, Pamela Chisanga has flagged off the distribution 60, 400 bar soap and 307, 440 hand sanitizers to beneficiary communities around the country. The gifts in kind have been made available through Unilever and DFID under the Hygiene Behaviour Change Coalition (HBCC). This is part of the ongoing Covid19 response aimed at promoting handwashing with soap as first line defence in the fight against Covid19. The gifts in kind will be distributed in Lusaka, Kazungula and Monze districts. Other districts covered include Samfya, Mwense and Mwandi. Institutions to benefit include healthcare facilities, schools, homes for the aged and for vulnerable children. Covid-19 response. Zambia. September 2020
---
Charity Videos
---
Charity Impact
Public health advice on handwashing during the COVID-19 pandemic is difficult for many living in rural communities to follow without a running water supply. Here, members of the WaterAid Bangladesh team introduce their manual of easy-to-use, context-based handwashing devices designed to overcome challenges of affordability and accessibility to include everyone. Since the onset of COVID-19 in Bangladesh, the country has been flooded with the primary public health message to 'frequently wash hands for at least 20 seconds', following advice from the World Health Organization (WHO). In theory, handwashing with soap is an easy, effective and affordable do-it-yourself preventive measure against COVID-19. The media have played a dynamic and vital role in promoting handwashing with soap and disseminating this core preventive message across the country. The Government has also highlighted handwashing with soap in its official COVID-19 messages, although these have been crowded out by other public health advice. Almost all…